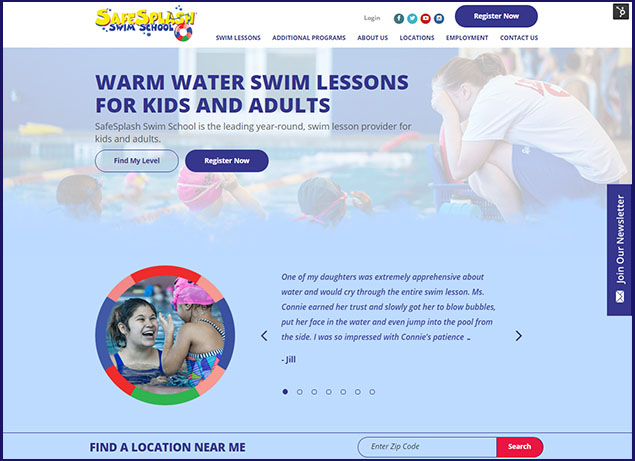 This year marks SafeSplash's 10th anniversary and we're celebrating in a BIG way! We recently acquired the Swimtastic® Swim School brand; which provides swimming lessons in warm water schools in Wisconsin, Nebraska and Florida, making us the largest swim school network in North America, with 111 locations in 13 states! To say we are excited to welcome this award winning brand to our team would be quite an understatement.
Along with this new acquisition, we have rolled out a fully redesigned, user-friendly, responsive website. This newly designed website offers many new options to streamline the process of finding the right class and location to fit every swimmers needs. Our new Find a Class Level wizard takes you through a series of questions in order to properly identify which class level is the right fit for your child, because after all, proper class placement is important for successful learning. Another exciting new feature is an interactive map showing all of our nation-wide locations; finding the most convenient school for you is one of our top priorities. Each individual location page also provides more in-depth information including hours and pricing and makes registering a breeze. Our new website also houses many different resources providing answers to some of your most frequently asked questions, curriculum information and our growing list of media articles and awards.
Along with creating a better user experience and providing unlimited resources, we've also updated the overall look and feel of our site, and to be frank - we think it looks pretty good! We would love to hear what you think about our newest updates as well! Dive on in to www.safesplash.com and take it for a test drive; peruse through our testimonials and see what others are saying about SafeSplash, check out our "Additional Programs" tab to see what else we offer or select your nearest location and register for a class today!