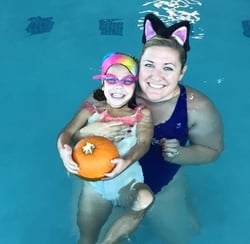 A lot of people ask me why I love what I do…Why? Because, I am passionate about making a difference in children's lives. 6 years ago, I realized my passion was helping children develop, and the impact it has had on my life has been transformational.
Up to that point, I had spent a considerable portion of my early career believing the hospitality industry was where I belonged. I was managing a major hotel for a major national hotel brand. I was doing very well, but my career in hospitality wasn't fulfilling. At the time I was a Mom of a young daughter and now am a Mom of two. Also as a former competitive swimmer, I know firsthand the importance of teaching water safety to kids and the influence that swimming can have on building a child's confidence.
Well, I owned up to it eventually and made the decision to quit the hospitality industry and jump in to a career that allowed me to make a real impact on kids lives. I decided to take the "plunge" and join the team at SafeSplash as the general manager of one of our swim schools.
So, now I come to work every day and get to experience defining moments in the lives of children every day. I get to see:
smiles
lives changed
parents beam with pride
kids hugged by their parents
grandparents wave at their grandkids with pride
families bond
pictures taken and shared with friends and family
Have you ever experienced the light of excitement in a child's eyes when they accomplish something for the first time? It is an amazing experience, and I get to see it almost every day. Swimming is a life skill®. It is a skill that teaches children the fundamentals of learning. They are not only building self-esteem but a skill set that might save their life one day. Swimming's foundational skills build self-esteem, not by praise, but by the child believing in themselves and what they can accomplish.
Swimming has a lot of other benefits to children in the learning process. They learn to be patient and wait their turn in class. They learn to encourage their classmates and be a part of their success. They strengthen themselves not only physically but with experiencing new challenges that show them they can be something great!
This is what it feels like to make a difference in a child's life. I'm fortunate to have the opportunity to do it every day. I'm glad I made the choice to leave the hospitality industry several years ago and join SafeSplash. It feels amazing to come to work every day and make a difference in an important mission.
Come witness the accomplishments of your child with us and experience the SafeSplash Way®. At SafeSplash® Your Children Are Our Greatest Accomplishment.