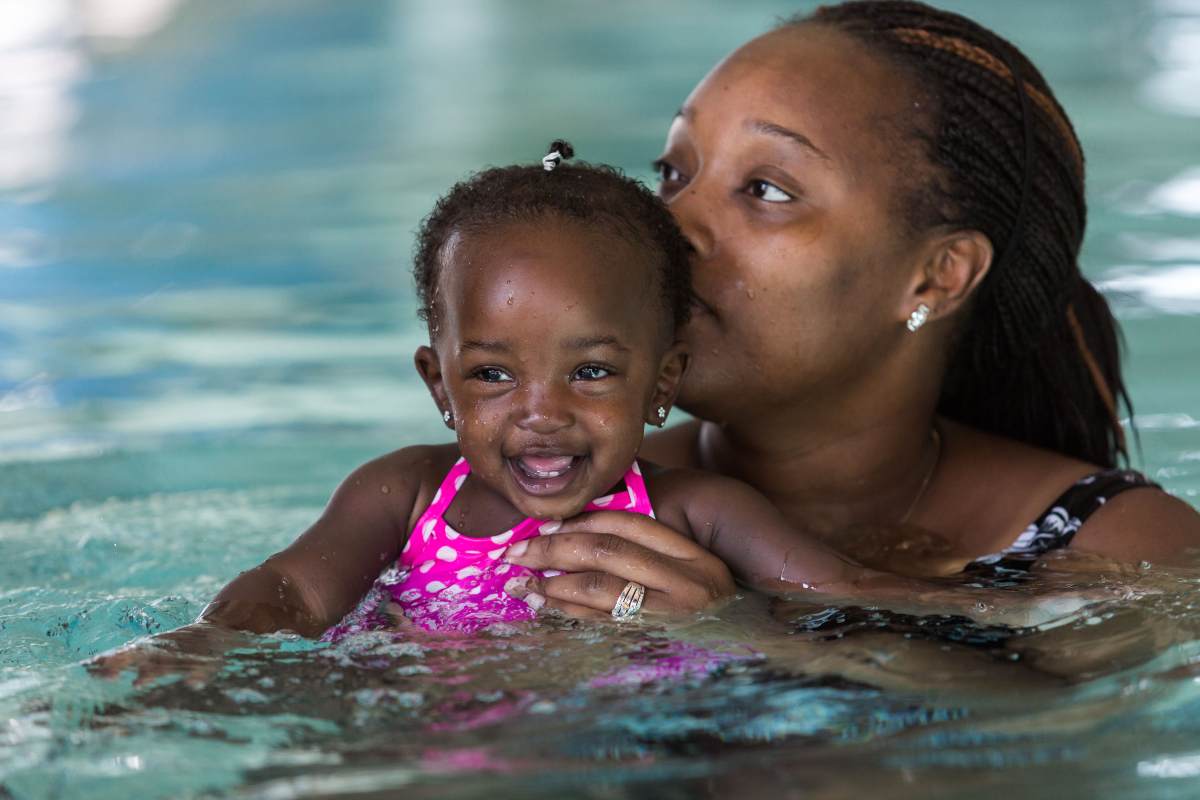 I have been teaching swim lessons since I was 17 years old. No one needed to tell me the importance of learning how to swim and what an impact it can have in a child's life. However, having a child changes how you view everything.
TODDLER SWIM LESSONS AT SAFESPLASH SWIM SCHOOL
I started teaching at SafeSplash swim school in June of 2016 when my son was about 8-9 months old. I was instantly delighted to join this team. They had the best class structure I had ever seen, and I shared their vision. Soon after joining this wonderful family, I was asked when I was going to start him in lessons. I am a Parent-N-Me instructor, and again I know how important it is to ensure your child is confident, and most importantly, safe in the water. I was always able to avoid the topic by making an excuse, "we are just so busy", but that wasn't why I was apprehensive.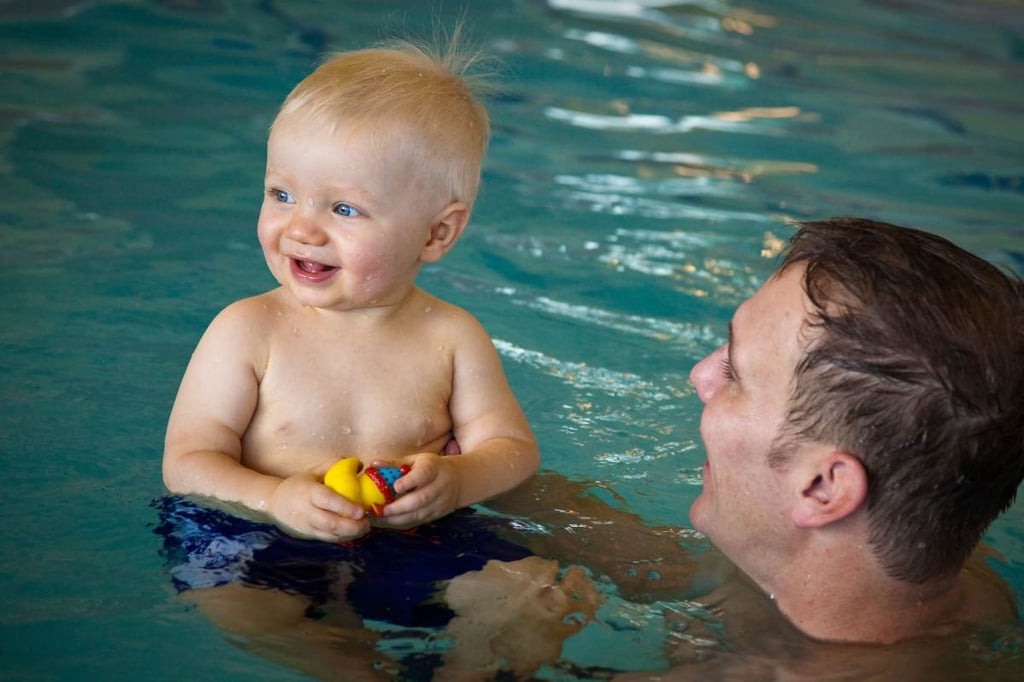 My son never seemed to do well with water. I remember sitting in the bathroom with my husband giving my son baths and he would sob uncontrollably. I felt like a failure as a mom. I was not only the person my son should be able to go to for help, but I was a swim instructor. I was so fearful of what would happen if he cried during the lesson and how people would view me. I am no stranger to a child being uncomfortable in the water and I have been able to help hundreds of children, including babies, find joy in swimming. This was a new animal though. This was MY child, and, with as much experience as I have had as an instructor, I was still scared. I continued to make excuses and gave my son baths where he would scream and cry, and I would cry too. I only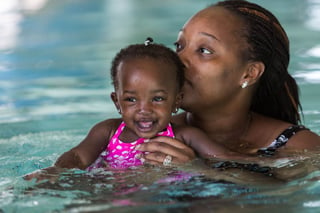 wanted my son to be happy and safe. I wanted to protect him from his fears, so I avoided them. I wanted to do the right thing and I kept having more and more breakthroughs at the school with children I had formed relationships with, but every night I would come home feeling defeated. I was still scared for my own son and his fears. I finally broke down and got my son enrolled in a Parent-N-Me lesson. I talked to my husband and we agreed that he would bring him into the lesson and we would just see what happened. I was done being afraid and I certainly didn't want my fears to be passed on to him. I gave my husband a 'heads-up' that there may be crying involved but we would keep him safe and work through it as a family to overcome his fear.
Baby Swim
It was the day of the first lesson. I found myself excited and nervous. I had gotten him into a class that had one other boy in it and it just so happened that I would be the instructor. After all, Parent-N-Me lessons are not just for the child but the parent as well. It was time for the lesson and I watched my husband and my sweet boy step into the pool, and to my relief he didn't cry. I continued the lesson and I noticed how tightly he held on to my husband and how much he enjoyed seeing the other little boy kick and splash through the water. He was opening up to it in a way I never expected. Then we came to the moment of truth: the face dips and pouring water on his head. I could feel myself holding my breath as I helped my son hold his to dip his face in the water. I counted, one…two…three… I blew in his face and dipped his face and waited for what could only be tears. However, he didn't cry, he smiled and I felt my heart soar. Everything changed after that lesson for me. I was no longer just a swim instructor. I was a proud parent watching my son learn and having fun while doing it. I started changing my approach to lessons in general. I felt like my eyes had opened. I finally understood how much emotion goes into lessons for both parents and kids. Then everything changed again; bath time.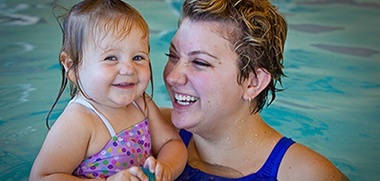 Happy Kids
I was enjoying a wonderful afternoon with my son; we were having an amazing day. I even made him his favorite lunch (macaroni and cheese). After lunch, I found myself with a yellow and orange one-year-old and knew it was time for a bath. I took my son into the bathroom and got him ready. I took another deep breath preparing for tears and cries. I slowly lowered him into the bathtub and to my amazement there were NO tears. Instead I heard my son's laughter. I again felt my heart soar and tears ran down my cheek from relief. I then decided to be risky and sang our songs from lessons and poured water on his head and again laughter. I had my breakthrough with my son! He didn't want to get out of the bathtub! He kicked, and splashed, and threw his toys. I joined in the fun and splashed and encouraged him to kick his feet. My sweet boy had taken a bath and loved every minute of it! After over a year of anxiety and fear I felt we had overcome our first obstacle together as a family.
Parents
My message to all moms out there who may be afraid: I understand; I was afraid too. I didn't think I was good enough and I was terrified I would be judged. I was not judged. Instead I was surprised with joy and hopeful anticipation for the next lesson. And to the moms out there in lessons with a scared child: please know that we, the instructors, care about YOUR child and want them to overcome their fears and have fun in the water. I know I will never teach another lesson the same way again and if I have the honor of teaching your child I will approach it with the same care and consideration I did with mine. At SafeSplash your kids are our kids and we will do everything to help our kids succeed.


Parents can find peace of mind with our Parent-N-Me swim lessons. Try signing up for a class today!