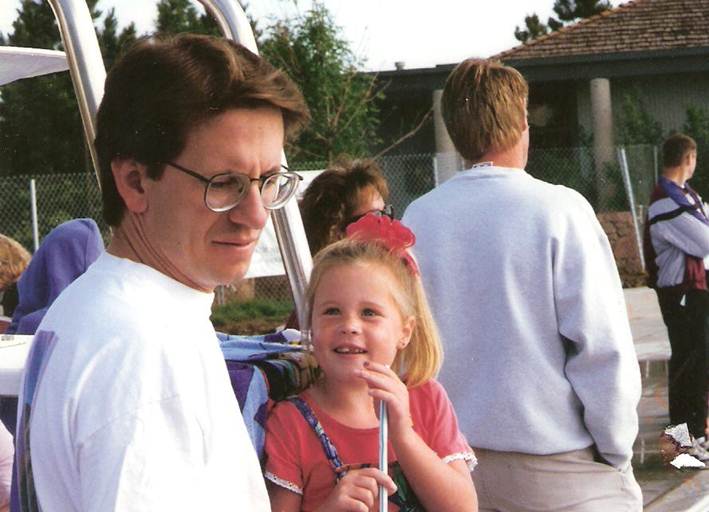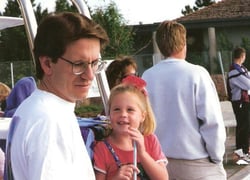 At 5 years old, my parents signed me up for our neighborhood summer swim team. The previous summer, I was having a great time eating candy while watching my older sister swim (see the picture with my dad).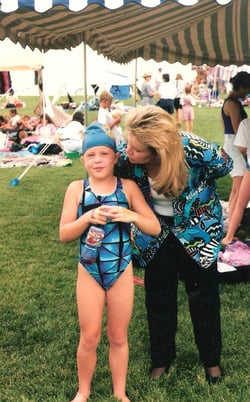 I had very little interest in having to get up at the crack of dawn and jump in a cold pool with what felt like thousands of kids twice my size. The pool was very intimidating and I felt much safer on the pool deck. I remember feeling annoyed that I had to join the team just because my sister was on it. I also knew she was pretty good and I was by no means a strong swimmer. At the time, it felt like I was forced into the pool but when I look back I couldn't be more grateful that my parents gave me the opportunity to try something that has turned into one of the biggest passions in my life.
Achieving Goals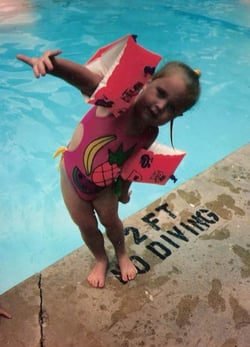 Summer swim team turned into club swimming, that turned into high school swimming, then onto college swimming, and all the way up to master's swimming. Being a swimmer wasn't always an easy task. You spend countless hours at the pool swimming back and forth constantly trying to beat the clock. There are tears when you don't hit that state cut. There is pain when you've overworked your shoulders, knees, and lungs. There's disappointment when you miss a party with your friends because you have practice. So, while swimming felt like a big sacrifice for me, as I reflect on my swimming career, it was as much of a journey for my parents as it was for me.
Parents, Swimming Goals, and Success
My parents gave everything they had for my swimming career. From 4 am carpools to countless hours waiting on the pool deck for my next event, my parents were very invested in my sport. I always credit the sport of swimming as teaching me hard work but, really at the core, my parents are the reason I give my all in all things that I do. If I hit the brink of wanting to quit they were always my biggest cheerleaders and the ones that gave me the strength to jump in that pool again. Without them really knowing it, putting me on the swim team taught me patience, loyalty, and time management.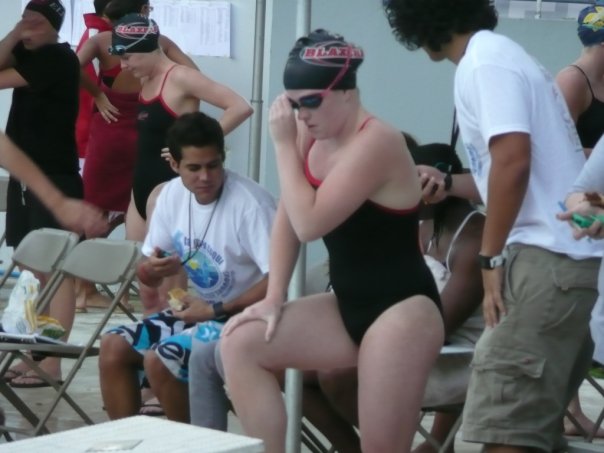 From Competition to Career
My parents would always say "If you work hard at practice you never know where swimming will take you". My swimming career has taken me all over the US and, really through that, I learned to be independent and responsible as I had to travel with the team without my parents. One of my favorite and most grateful swimming memories is swimming in Australia. Swimming allowed me to meet so many amazing people from my teammates, coaches, and even my competitors. I truly never would have thought because my parents helped me become a swimmer, that my career would revolve around it as well. As I continue to be driven to have a successful and fulfilling career, I am lucky enough to work at Streamline Brands. Every day, I get to collaborate with the passionate and amazing people at SafeSplash, Swimtastic, and SwimLabs. My hard work in the water has now allowed me to bring my passion to the office!
Parents-N-Me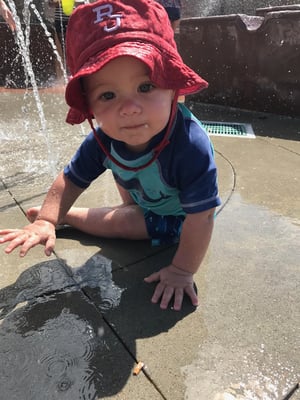 I am a first-time parent to a sweet little boy who is two weeks away from turning 1. As I am planning his penguin themed pool party, I can't help but think what a perfect coincidence that we are celebrating his birthday at a pool. You would think that after almost 24 years of swimming, a pool is the last place I want to be.
The truth is, my heart will always be with swimming because it was a gift from my parents. My son may not become a competitive swimmer, but I feel that I do owe it to him to experience what swimming can bring to your life. We have been taking him to Parent and Me classes for the past 6 months, and he loves it! Those classes are precious moments that my husband I get to have with him each time we are in the water. We love pool time with him and I think he does too! I would imagine that my parents felt the same way as they watched their kids swim – it's a gift to give your kids the skill of swimming. I am not sure my life would have ever been the same if I had never jumped into that pool. For that, I am eternally grateful and hope that I can help my son find his passions as well. So, thank you mom and dad for everything you have done for me, but especially for helping me become a swimmer!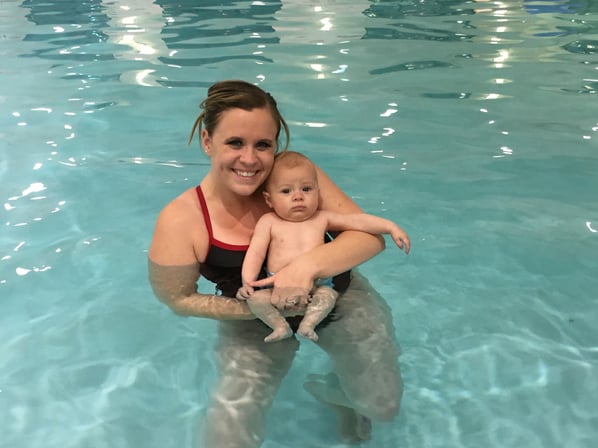 Happy National Parent's Day!!
July 22nd this year was National Parent's Day*
Are you interested in learning more about SafeSplash Swim Lessons? Have questions about programs in your area? Register today and a customer service representative will contact you with more information!
---