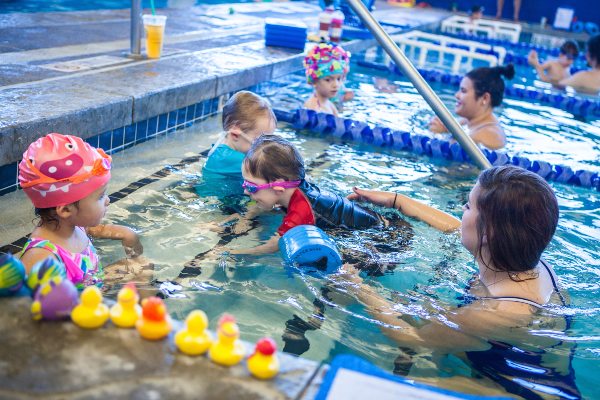 I come from a family of swimmers. Not professional swimmers, mind you, but we can all at least float and get from point A to point B in the water. My brother, cousins and I were all taught how important it is to know how to swim from an early age.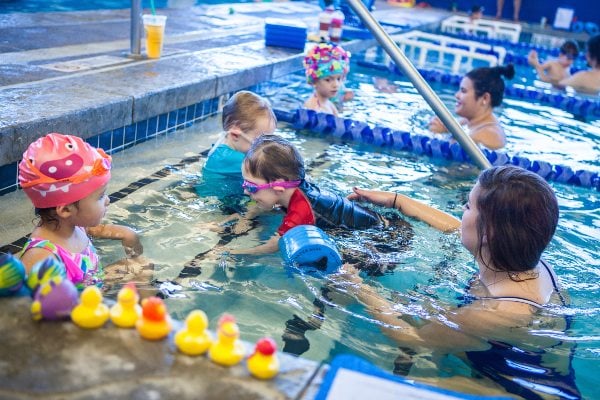 For your health. For survival. For fun. All of us grew up hearing the story of how my grandfather swam the widest part of the Hudson River near Haverstraw, New York, as did his sister Florence, apparently setting a record at the time. That is about three and a half miles wide. (I cannot verify the record, but it always sounded good.)
When his children started having children, he put a pool in his back yard and taught us all to swim. When the lessons were over, we sat on the edge of the pool and watched him do laps. Graceful. Steady. Focused. If you were also in the pool and not paying attention, his long arms would you take you under, though you'd quickly be released. You had better be ready.
My daughter Sophie should also have this experience – even though we live in a land-locked state, and even though Grandpa is no longer around to teach her himself. Having lived well into his eighties from living a healthy lifestyle, he would want her to swim.
About a year ago, I saw a video on YouTube showing how effective proper instruction can be in saving a life. It was a video of an infant falling into a backyard pool and floating on his back until he is rescued. I watched this video while holding my breath. Obviously, young children shouldn't be left unattended around water, but the video also showed how easily accidents can happen. Parents – and children – should be prepared.
When Sophie turned six months old we started taking her to our neighborhood pool. Luckily, this coincided with summer, so we had about three months to play around, get her used to the water, splashing around and going under. In the shallow end for kids, she was able to touch the bottom and walk herself around while sitting in a baby float. (She prefers anything that gives her the freedom to move around independently).
It was my intention to start her on swimming lessons once the pool closed to keep up her love of the water, but of course life got in the way for a while. After the holidays and Sophie turned a year old, it came to the front of my mind again. It was cold out, and our pool wouldn't be open for months.
My parents were visiting recently and got lost driving around. They apparently drove past SafeSplash Swim School – which was in the complete opposite direction of where they intended to go – and told me where it was. I researched swim schools in the area, and this one happened to impress me the most. Then I found out that a neighbor is a director and instructor at the Aurora SafeSplash location. It was meant to be.
My husband and I alternate taking her in the water every week since we both enjoy the experience. We have attended 5 Parent-N-Me classes now, and Sophie loves it! Her favorite activity is jumping in the pool from the side. She went from sitting and launching herself toward me in the water, to now standing and waiting until I count to three. She loves to put the diving rings straight onto her arm like bracelets, and hates to give them back, which she lets you know by screeching at the top of her lungs. The echo off the walls makes me want to go underwater until it stops, but I cope. She will now put the rubber ducks in the bucket as an activity to help clean up at the end of class, but otherwise hangs on to those things like they are her last meal. Maybe this week she'll calmly let me float her on her back without the boat motor noises, but I doubt it.
I love seeing the joy on Sophie's face as she is splashing and jumping into the warm water. I love the feeling of knowing that she is learning lifesaving skills and developing confidence as a swimmer. I smile because I know Grandpa would be proud.