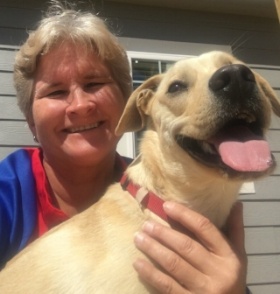 Learning to Swim in The Dog Days of summer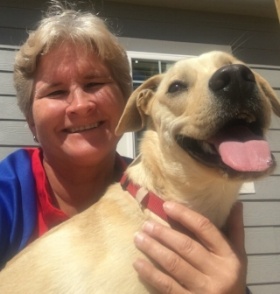 My name is Carol Thienpont and I am the General Manager of SafeSplash Swim School locations in San Antonio, Texas. Since I have been a swim instructor for the past 20 years I wanted to make sure my new best friend, my "Bassador", Ranger, knew how to swim. As I love being in and around the water, I would take Ranger to the lake a lot last summer. He wanted to be everywhere I was, so I wanted to make sure he knew how to doggie paddle. Although as a swim instructor I discourage the doggie paddle with children, I definitely encouraged Ranger to use it.
The Doggone Truth about Dogs and Water
You could see the fear in Ranger's eyes when he would swim out to me but he continued to do it because he always wants to be right next to me.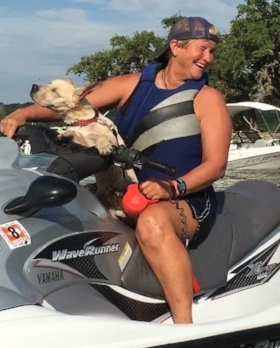 Doggie paddling is only a swim stroke for dogs! Even for a dog, it should not be done very long as it uses a lot of energy with very little forward progress.
Dogs have to keep their heads above the water because they do not know how to slowly blow out while they are under the water. If you ever listen to a dog breathe they have very short, quick breaths preventing them from having the ability to "blow bubbles" under the water and then turn to take breaths like humans do to swim.
Bad CHoices - relying on floaties teaches the doggie paddle!
Floaties encourage a vertical body position in the water allowing the face to stay above the water identical to the doggie paddle. The child uses the bicycle kick to move through the water. Once you take the floaties away and that child tries to be vertical in the water using the bicycle kick they will go under. I always encourage parents not to rely solely on floaties. I suggest the 50/50 rule: if you are going to the pool for an hour, have your child wear floaties for 30 minutes and take off the floaties for the other 30 minutes and work with them having them lay on their stomach and kick on the surface to propel themselves forward in the water.

Remember, for your child to properly swim the body position must be horizontal. The flutter kick is a swimmer's motor and it must be strong and consistent. Encourage your child to kick behind his/her body at the surface and kick from the hip and not the knees.
SafeSplash Swim School is dedicated to making sure your child is steadily learning proper technique. Remember: swimming is a life skill®