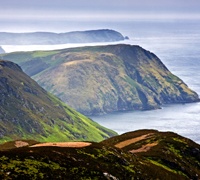 At a recent swim class while my daughter was in the water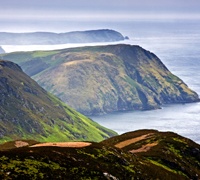 with her dad, I noticed a woman also watching the Parent-N-Me class in session and introduced myself. Instantly I recognized a familiar accent. Phyl was visiting her daughter's family from the Isle of Man, and was the great-grandmother of student, 20-month-old Alfie. It is relatively rare to meet anyone from that part of the U.K. since the small island in the Irish Sea between Ireland and England only has a population of about 88,500.
Phyl is short for Phyllis. I was informed that there was another Phyllis at her job back home, and in order to distinguish between the two women Phyl conceded to be called, well, Phyl. It stuck, and so did the full explanation, much to my amusement. It was a busy day at the pool, and there were lots of parents waiting to go poolside to watch their children's recent progress. It is fun to watch what takes place at all levels of instruction and to see the pleased look on everyone's face that seemed to say, "It has all been worth it."
Phyl proceeded to explain that she was not the grandmother, but great-grandmother to Alfie. We were soon met by her daughter, Gina, his grandmother. Gina seemed surprised that I could identify her origins right away, as she had been living in the U.S. for about 28 years. (My husband is also English.) Apparently, her daughter and son-in-law were away for a long weekend, and Gina and her husband Tim were on baby duty – swim class included. It didn't seem like much of a hardship for them. Grandpa was in the water with two other dads and a mom, and everyone had a smile on their face.
Gina and Phyl were gracious enough to pass the time with me and chat about swimming. Alfie had been taking this class for about three months, and they've kept it up because he has really taken to the sport. The entire family has a long tradition of growing up in the water, specifically at the beach. Gina swam in high school as well. She says that swimming is a life-long sport. Even her mum still swims at the age of 81. "It is something you can enjoy your entire life," she said. She also said that here in Colorado swimming is something you can carry through in summer, and that they have made friends that they met at their neighborhood pool. "Swimming is a very important social activity as well," she stated. "We have met many people that we wouldn't have otherwise."
Gina explained that throughout her life, her family spent summers and holidays (vacations, as we Americans call them) on the shore at the Isle of Man. Phyl said that the water was cold, but it didn't stop anybody. Just then, we saw the parents in the class lift the babies into the air and let them splash down into the water, a comfortable 81-85 degrees Fahrenheit. I watched as my husband lifted our daughter higher than I probably would have, but our little one seemed to love it. "Dads don't care, do they?" laughed Phyl. They do seem to be a bit more relaxed, and it was a joy to see them all having so much fun – nursery rhymes included. Something about grown men singing "Twinkle, Twinkle" while bouncing up and down with a baby in the water makes these trips to SafeSplash Swim School even more worth it on a Sunday morning.
By the time my daughter and I came out of the locker room at the end of class, Phyl, Gina, Tim and Gavin were all "chatting it up" in the lobby like old friends. Perhaps we'll see them again next time, and I'll bring my mother-in-law!