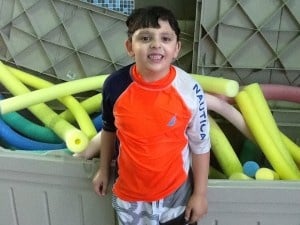 With summer just around the corner, it's the perfect time to stay active in swim lessons! From pool parties to family beach vacations, water is the ultimate summer destination and it's important to make sure that you have all of the skills for a fun, safe summer in and around the water.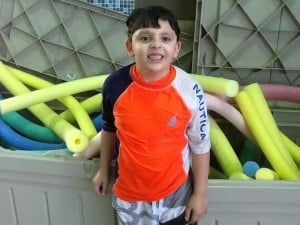 The Jaber family and their son, Mohammad, are the perfect example of putting safety first! About four years ago they wanted to build a swimming pool, but were concerned about two-year old Mohammad's safety.
They enrolled Mohammad in swim lessons at SafeSplash so he could learn to swim and become water safe. He has worked hard in his swim lessons and had fun, now he is a level 4 swimmer. The time has come for the Jaber family to build a swimming pool. Now Mohammad can dive for rings, his favorite activity at SafeSplash, in his very own pool!
"Thank you SafeSplash Staff for making it a fun place for kids to swim and enjoy while learning one of the most important skills in kids' lives", says his mother, Rana.
SafeSplash would like to thank the Jaber family for emphasizing the importance of water safety in their home, and we encourage everyone to follow their example!