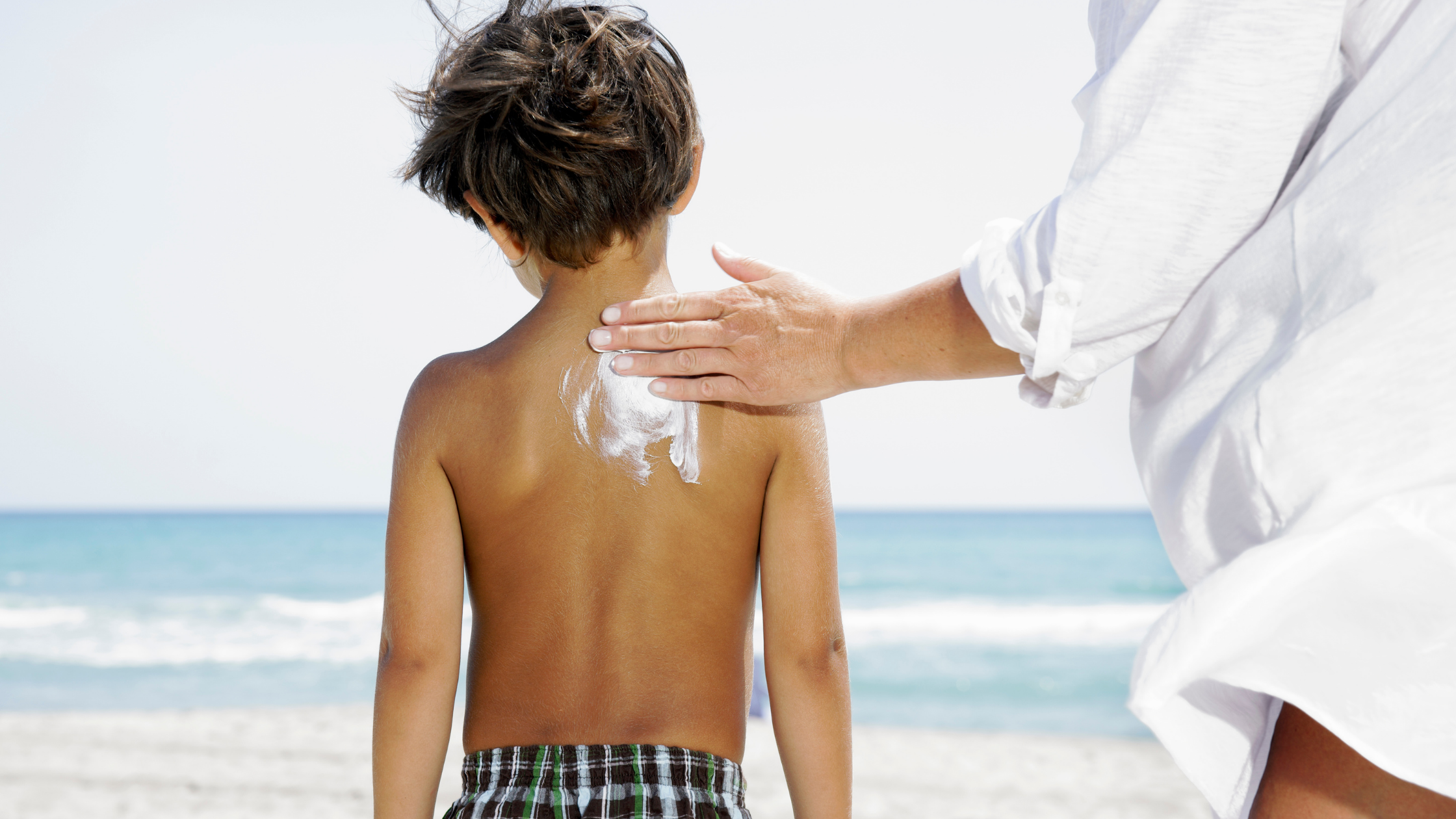 When the summer sun finally rolls around, indoors is the last place kids want to play after being cooped up for the long, cold winter months. But playing outside for hours each day can translate into too much sun. And that's not good for anyone, let alone children. Follow these sun tips to make sure your kids enjoy the summer sun safely.
Sunscreen is Your Friend
This can't be emphasized enough. All children should wear sunscreen with an SPF (sun protection factor) of 30 or higher. Apply it 30 minutes prior to heading outside. The sunscreen should also be broad-spectrum – meaning it protects against UVA and UVB rays – and water-resistant if you'll be spending the day in and around a water body. Reapply every two hours or after swimming. Zinc oxide is ideal for protecting delicate areas like the nose and tops of ears.
How to Apply Sunscreen
Don't skimp on the sunscreen. Apply it liberally to exposed areas of the body such as the face, ears, nose, hands, and feet. And don't forget the backs of legs and knees too.
Use sunscreen anytime you and your children venture outside. That also goes for cloudy days as UV rays are strong enough to penetrate clouds. UV rays can also reflect off of pavement, water, sand, and other surfaces. You can be getting burned without even realizing it.
Sunscreen for Babies
Sun protection for babies is super important! Their skin is so delicate and needs to be protected from the sun. For babies younger than six months old, keep them covered as best as you can with clothing and shade. Apply sunscreen to their faces if sufficient shade isn't available. For babies older than six months, apply sunscreen to any areas of skin exposure. Though, it really is best to keep their sun exposure to a minimum.
Take Cover
There are a few ways to accomplish this. For starters, avoid being outside in the sun between 10:00 a.m. to 4:00 p.m. That is the time of day when the sun's rays are strongest. If your kids can't avoid being in the sun during those hours, apply and reapply the sunscreen.
Another way to cover up from the sun is with clothing. Tightly woven fabrics such as cotton are ideal. For those kids who love to swim, use sun-protective swim shirts while they are in the water. And don't forget to cover heads with wide-brim hats and sunglasses made with ultraviolet protection.
Practice What You Preach
Being a parent means you're almost always teaching your children something whether you intend to or not at any particular moment. The best way to teach them about safety in the sun is by practicing what you preach. If they see you use sunscreen, then they'll use sunscreen. And they're probably more apt to adopt that habit as they get older. Be a positive example with sunscreen and limiting time in the sun. And if your kids attend some type of summer camp or daycare, make sure they have an ample supply. One of the teachers or counselors will probably help them put it on if your children are too young to do so themselves.
Treating a Sunburn
Most kids get sunburned sooner or later. Follow these treatment tips for before, after, and in the future.
Symptoms
There are varying degrees of sunburn. Mild, if exposure is minimal, to severe and possibly requiring medical attention. Common symptoms include red, warm skin, and blisters. Don't pop the blisters if they are present!
Also, watch out for chills accompanied by a fever, headache, and dehydration. Dehydration symptoms include a dry mouth, decreased urine production, and no skin elasticity.
Start the Cooling
Draw a cool bath for your child. If that's not possible, treat the affected areas with cool compresses.
Pain Treatment
Sunburns hurt. Give your child something for the pain. Consult your child's doctor for the appropriate treatment course.
Avoid Sun Exposure
The sunburn will need time to heal. Your child can still play outside but opt for shaded areas to avoid direct sunlight.
Seek Medical Attention
Monitor your child closely for medical issues such as a fever higher than 102, oozing blisters, infected burned spots, and signs of heatstroke.
Summer is one of the most popular seasons due to the fantastic weather. Blue skies, warm temperatures, and sunshine. Lots of sunshine. So, don't let the summer sun ruin your kid's fun. Use sunscreen and enjoy all that the summer has to offer.