Swimmer of the Month
Aiden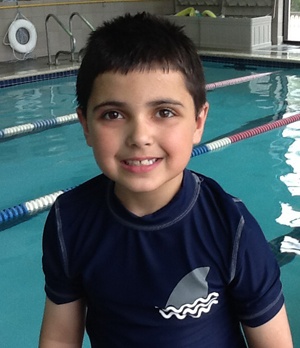 Aiden is 8 years old, a level 4 swimmer, and in the 2nd grade. He is always looking to improve.
Coach Alek says, "Aiden is a happy swimmer and a pleasure to have in class. He is a hard worker and succeeds quickly when he tries a new skill. Aiden's favorite stroke is the backstroke. Most of all, he constantly makes me laugh."
Aiden's hobbies are swimming!, baseball, cub scouts, reading, and gaming during downtime. He has a dog named Asa.
Aiden's mom, Serina, told us, "Aiden has really enjoyed SafeSplash. If we are traveling, he can hardly wait to come back so he can resume class. He has a great relationship with his instructor, Alek, who is patient, encouraging, and always knows how to motivate him."
Congratulations to Aiden! Cathy, Coach Alek, and the rest of the SafeSplash staff are very proud of you!!