Unlike many athletes of her caliber, Missy Franklin stays true to her humble roots. She is as dedicated to her family, faith and friends as she is to her sport – a true role model for not only children, but adults as well. We at SafeSplash consider working with children a true honor. We strive to give not only the gift of a life skill through teaching swim lessons, but to also surround our schools with people who are dedicated to doing good and those who will be someone to look up to.

We didn't choose to partner with Missy Franklin based on her successful swimming career alone. Her Olympic accolades (5 Olympic medals) and professional swimming achievements (17 World Championship medals) is more than impressive. Don't get us wrong, she is a tremendous athlete and has accomplished things that few can ever compare to, but there is more to her that is just important. It's her down to earth personality, her competitive spirit, that infectious smile and her desire to be more and do more than anyone expects or believes she can do – that's why we love Missy Franklin, that is why we are proud to have her part of our SafeSplash Brands team.
Missy is a huge advocate for kids, probably one of the reasons why Time for Kids recently featured a Q&A article with the Olympian. This article defines some of the many reasons why we think Missy is a standout role model.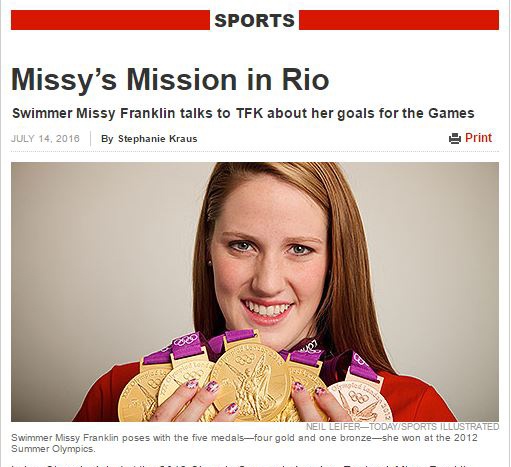 Read the full story here.
We all start somewhere, are you ready? Register for Swim lessons today!