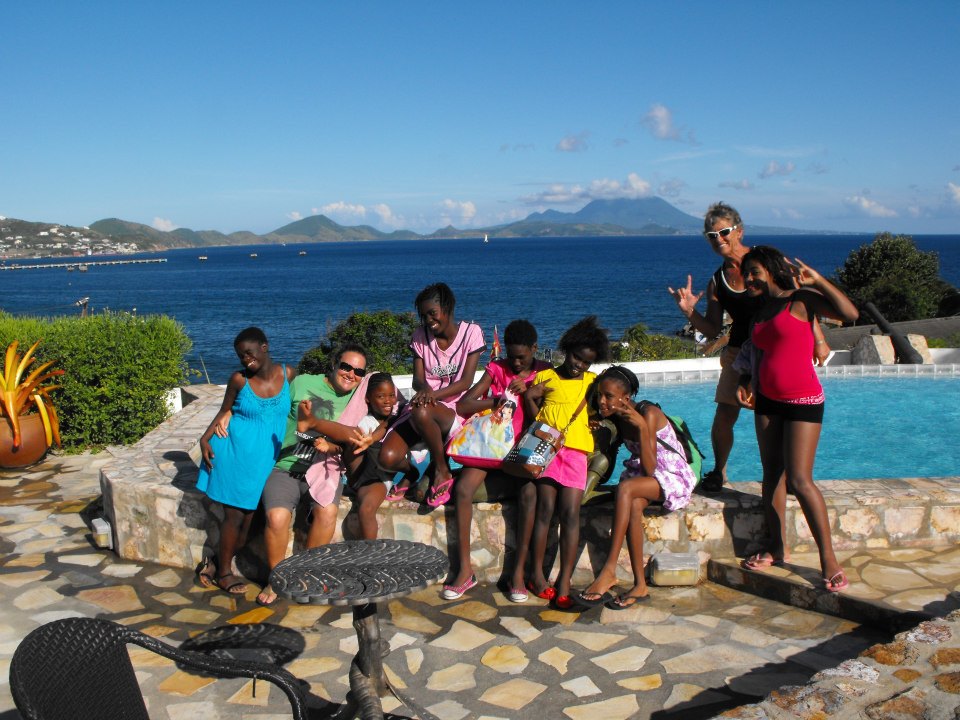 My name is Natalie Lavoie, I am one of the SafeSplash managers in the Seattle area. I never would have guessed how much swimming has shaped my life and helped me achieve goals.
I can still remember the smell of the lesson pool, the Hewie,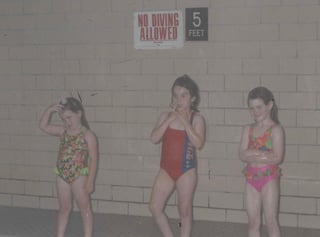 Lewie, Dewie Duck Tails stencils on the wall in the locker room, and my teacher on my first day of swim lessons in my home town in Pennsylvania. I was one of those kids that always got very nervous on the first day of any new activity and would usually end up crying. Though, I cannot remember having a bad time at lessons and I can think of a "crying story" for any other activity I have ever tried! I just remember loving swimming! It was probably because of my wonderfully patent and caring teacher, Ms. Connie. She always had a smile on her face and made me feel safe. Every time I get in the water to teach now I think about her and try to emulate her spirit. She was a positive start to my life in and out of the water.
Growing up, swimming stayed a big part of my life. Being able to swim made summer vacations with my family to Lake Champlain in Vermont or camping on Lake Arthur in Pennsylvania special! I was able to jump off the dock, go boating, snorkel, and swim in the lake while my family was able to relax. Those are memories I will always treasure. I remember playing Marco Polo, taking synchronized swimming lesson, having underwater tea parties, and pretending to be a mermaid at summer camps with friends. Being able to go to pool parties or spend the day at the pool with a friend was a great sense of freedom. My parents never had to worry about me. I was able to be the social fishy I was always destined to be.
In high school, I tried the swim team for a couple of seasons but medical issues came up and I had to stop racing. Being on the team taught me a lot about stroke technique and from the sideline I helped struggling teammates become more efficient swimmers. Once I saw that my teaching worked for them, I got a job teaching swim lessons at the same school I learned how! It was a great first job! Working with all the kids and teens was a blast. I went to college in the Northeast Kingdom of Vermont, where swimming became associated other recreational activities like kayaking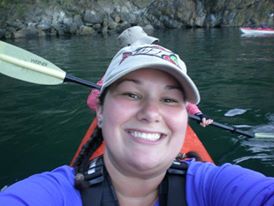 and rafting. I basically stopped swimming until my last year of school. I was not able to play rugby anymore because I had hurt myself too many times to count and needed a lower impact activity to work out my aching bones, and swimming was it.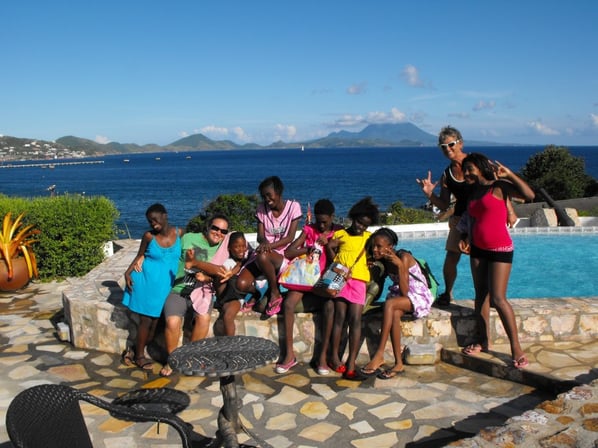 It wasn't until I joined the Peace Corps that teaching swimming to everyone I could became my life. I was stationed on the small Caribbean Island called St. Kitts. I lived right on the Caribbean Sea and loved going down to the water for sea baths. I noticed in my village that not many people would go and enjoy the beach and if they did they would only wade in the ocean not swim. Asking around I found out that the majority of the population of the island did not know how to swim. This was due to not having access to a safe place to learn how to swim; pools on the island are all privately owned or at a hotel. Also, the ocean is a culturally scary place for islanders and there are many fears associated with it. It was very shocking to find out that a country surrounded by water could be in such need for lessons. While I was living on the island for two years I was able to help teach about 100 children and special needs adults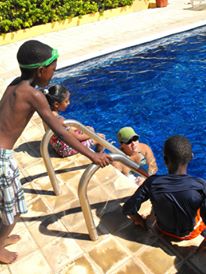 how to swim. We found ways to use hotel pools and the ocean to teach lessons. The most life changing memory I have of teaching there is of my landlady's son, Kofi. He was six years old when I met him and full of energy. We hit it off great and he became my little shadow. When I started teaching lessons I brought him along. His first day in the pool was scary for him. He cried/screamed at first and I think he even broke my suit because he was pulling on it so much. As the class went on he slowly became more comfortable with the water (and me) and was excited to come back. He came every Saturday with me to lessons and spent time down at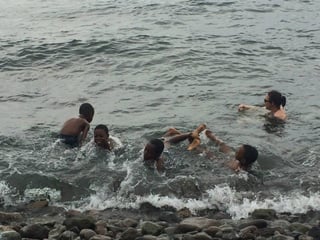 the beach by my house for the next two years. By the time I had to leave the island he was able to swim all four racing strokes, including the butterfly. His goal was to swim like Michael Phelps. He is now 12 years old and can't wait to teach his nephew how to swim. Kofi is the person that made me rethink what I wanted to do with the rest of my life. Because of him I learn just how much I loved teaching lessons and how much it can affect children lives.
When I got back to the States I moved to the highest incorporated city in the United States, at 10,200 ft above sea level; Leadville, Colorado. As luck would have it, the county pool was in need of a swim teacher. After working as the swim teacher for a month I was asked to apply for a full-time job within the county. It was my step in the door to becoming the Lake County Aquatics Coordinator for the same pool. This position gave me the opportunity to learn the behind the scenes of pool care/maintenance and gain experience in managing staff. To get use to the high elevation and get myself back into health shape, I started swimming laps every day after my morning shift. At first it was horrible, I couldn't even swim 100 yards! Over time I became strong enough to swim a continuous mile! I stayed in Leadville for two years as their Aquatic Coordinator and taught over 100 children swimming. It was wonderful to see that I could make a difference in people's lives in the States too!
One of my life goals was to one day live in Washington. I had given myself five years after I graduated college to make it happen. When I saw the job announcement for SafeSplash Swim School in Seattle, five years to the month, I knew it was destiny! Where would I find a job that would allow me to continue my love of teaching swimming and live in the region of my dreams?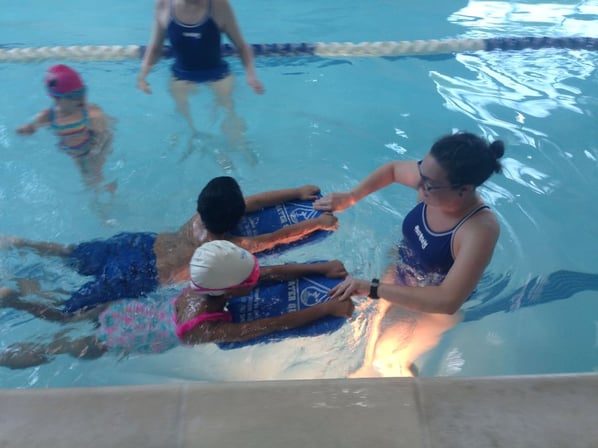 SafeSplash's motto is "Swimming…A Life Skill!" I think this is true in so many ways. Yes, people should learn to swim for safety but that is a small part of it. Learning to swim brought me confidence, coordination, patience, social skills, great friends, better health, obtainable goals, wonderful dreams, and a loving family. Swimming has given me the life I have always wanted! It is important to me to teach as many people as I can that learning to swim will opening your life to great opportunities.
Want to join the SafeSplash team? We're hiring!