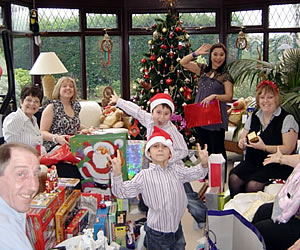 Ahhh…. The sweet smell of sugary desserts, the laughter and joy as family members catch up, the loud chatter over the game… You know what time it is - you've got it, it's the holiday season! Whether you are cooking up a Thanksgiving feast, decorating the tree, watching the parade, wrapping the gifts or just soaking it all up - the holidays are the most fun and festive times of the year. What makes these moments so special; family and food!
As the baby of the family for many years I was always under
my family members during the holidays and I can say I learned a thing or two from my family. Watching my grandmother and mother cook greens, hot water cornbread, turkey and macaroni and cheese among other sweet and savory treats I was amazed and there formed my amazement with cooking. Melding together textures and flavors is a gift! If you have younger children invite them into m the kitchen to learn the tricks of the trade and maybe catch an old family story or two. You may not be able to keep your child's attention for long but the smells will keep them intrigued.
The holidays always seem like such a great time to just sit back, relax and laugh with your family. You probably haven't sat down and eaten together since the last holiday so really take each other in and maybe swap recipes for next time. Family stories also can be a very fun and educating holiday past time, not to mention the serious bonding over sports games. There's something about a family being in the same room cheering and yelling at a screen that is oddly festive and fun. After the food is consumed and your team has played what's left to do; more family bonding! This is when you break out the Uno cards, Monopoly board or PlayStation 4 and get ready to go head to head with the best of 'em. (Warning: These games are not for the faint of heart!) Maybe this is a friendly match or maybe you all are vying for winner of the year, either way family games are always fun to play and even more fun to win.
Just when you thought the holidays were over and all the to take home plates have been made, you realized your family will be eating leftovers for days to come. Some of us don't quite like the idea of leftovers and if you are one of those people I'll give you a simple holiday recipe to turn your holiday food into a whole new experience.
Mini Pot Pies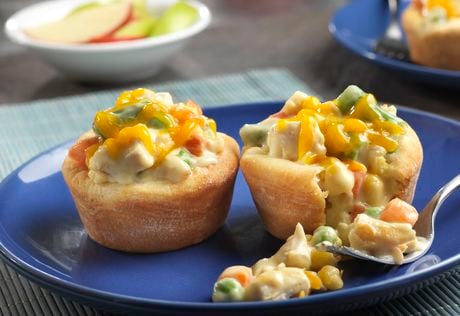 Items needed:
1 Holiday meat of your choice (Beef, Ham, Turkey, Cornish Hen, etc.)
1 Can of biscuits
1 Can of Cream of Chicken Soup
Holiday veggies or mixed veggies (green beans, peas, carrots, broccoli, etc.)
Cooking spray
Cupcake tin
1 bowl
1 spoon
Seasonings of your choice(salt, pepper, chili, garlic, onion seasoning, etc.)
Optional:
Cheese
Mashed potatoes
Step 1: Chop up your holiday meat into bite sized pieces
Step 2: Mix together holiday meat, soup and veggies (optional mashed potatoes) in a mixing bowl
Step 3: Take biscuit and flatten dough with your fingers
Step 4: Spray cupcake tin with cooking spray
Step 5: Line cupcake holders with flat biscuits
Step 6: Fill biscuits with mixture. Optional: Top with cheese
Step 7: Bake at 375 degrees for 14-18 minutes
Step 8: Enjoy your homemade holiday mini pot pies!!
I would love to add more leftover recipes to my recipe book, please share your favorites in the comments below!