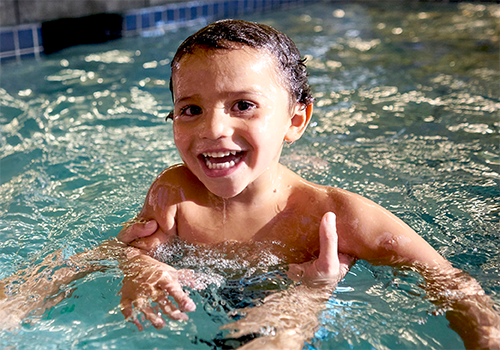 Learning to swim takes time and patience. Many parents are eager to know how long it will take for their children to become proficient in the water. While the answer to that question varies from child to child, what we do know is that the more you practice, the quicker the results. Even if you don't have a pool, practicing outside of your scheduled lessons is the key to retaining knowledge and increasing your skills. For our youngest swimmers, practicing in the bathtub and on land can help reinforce what they are learning with their instructor.
Here are a few ideas to get you started:
Practice getting your child's face wet (first by pouring water over the head and then slowly by submersion).


Have your child slowly begin to practice holding breath for longer periods of time. Make it a game and try to make each other laugh with silly faces or use a timer and try to break a family record.


Practice blowing bubbles in the bathtub or in a cup.


Have your child dip one ear in the water at a time.


Practice stretching out and laying on the back while looking at the ceiling. (A great song to sing during this exercise is Twinkle, Twinkle Little Star and have them look for pretend stars in the sky.)


Use bath toys to help him/her enjoy the tub. Practice reaching and grabbing for toys and use the toys to mimic what you want the child to do.


Mimic climbing in and out of the pool. Elbow, elbow, tummy, knee, knee. That's the SafeSplash way to exit the pool. Children can practice this skill at home on the couch or on a high bed.


Use imaginative play to practice jumping in. Many children have anxiety about entering the pool. Practicing jumps into pillows is a fun way to remove stress and have fun at the same time.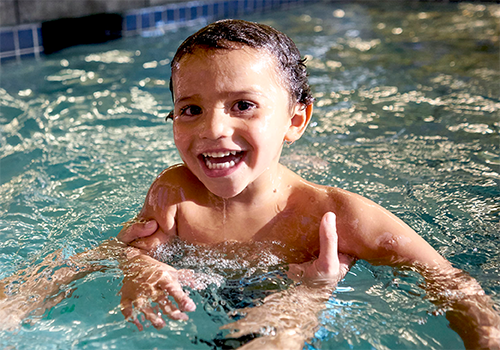 If you don't have a pool or spa, older and more proficient younger swimmers can still practice at home too.
Try these exercises to build confidence and skill
Practice windmill arms. While standing up, practice rotating arms like a windmill. Have your swimmer start with the right arm, swing it straight back, then straight up pressed up against his or her ear, then extended straight out in front to pull it down back to the starting position. Then repeat on the left side. Windmills help with range of motion and muscle memory in the pool.


Work those kickers on land. Have your swimmer lie down on the ground on his or her belly and raise up first the right leg, then the left leg — without bending his or her knees! Go slowly at first to ensure correct form. Practicing straight leg kicks at home will help swimmers when it's time to hit the water.
Whatever you do at home, it's important that you make it fun. Teaching a child to swim is an important life skill, but teaching a child to love swimming is a priceless gift that will follow them throughout a lifetime.

Visit Collette's SafeSplash locations in the LA Area and Orange County and say hi!