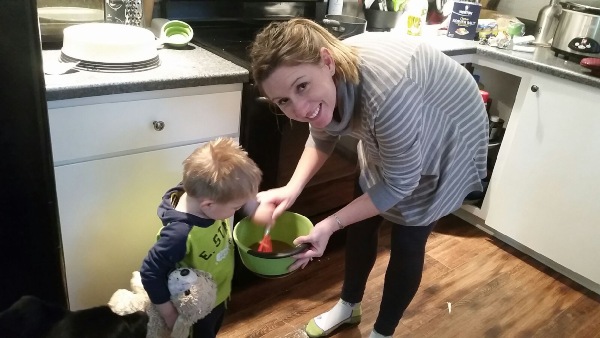 When I had my son everyone, including our pediatrician,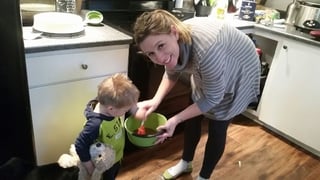 warned me about the witching hour. That glorious time of day where your newborn is fussy and it is nearly impossible to console, let alone get anything done because you are wearing holes in the hallway or doing squats while singing. Really, doing whatever it takes to keep your baby from crying, counting the minutes until your husband gets home and takes over while you cook dinner. As the witching hour phase passed we entered a new phase, the phase no one warned me about! For me, it was a much less enjoyable stage - the one where my husband and I were both back to work… and someone still had to make dinner.
During my first few months back to work from maternity leave, I genuinely thought we might starve to death. Historically my husband and I ate healthy, home cooked meals. When I went back to work dinner time suddenly consisted of drive through meals, Chinese food, Papa Murphy's pizza (something about cooking it at home made me feel better about pizza) and many rotisserie chickens from King Soopers with pre-made sides. As my newborn has since transitioned into a busy, climbing toddler the struggle continues to be real. That said, we have learned how to incorporate healthy meals back into our routine. It would be a lie if I said we never had pizza or ate takeout but we have found a way to get back into somewhat of a normal routine. My toddler loves to help cook and although it makes dinner time messier, it is easier to embrace it than fight it and I love that time with him. Thankfully, we received some very helpful advise from our Doctor and family.
Kids Should Eat What You Eat: My first tip for any parent going through this came from our pediatrician. At Lincoln's checkup Dr. Mike said, "Lincoln should eat what you eat." WHAT? Skip all the gross canned baby hot dogs and feed him real food? What an interesting concept! I made homemade baby food puree but when it came to true solids, I was lost. It was eye opening for me as I started to make dinner, I began to ask myself, "Would I feed this to Lincoln?" If the answer was no, I probably needed to reevaluate my dinner selection because he is supposed to eat what we eat and let's face it, I shouldn't be eating this either.
Pre-Plan Meals: The next best advice I was given came from my sister. She recommended that I pre-plan our meals. Not only did this cut down on our grocery bill substantially, it helped make dinner time less chaotic. The nights when I get home without having to stop at the grocery store and I don't have to have to hear the dreaded words "any ideas on what to make for dinner" are the best nights, especially if I have had a long day at work. The weeks when I don't do this, my husband and I both feel the pain all week long. I like to plan my meals on Saturday mornings which is perfect because let's face it, I have seen the same episode of Paw Patrol and Blaze 300 times. Then, Sunday mornings, I shop for groceries early in the day. We're talking before 9am. If you have never shopped for groceries at 7am on a Sunday, you are missing out, it is a deserted oasis! Sure, you have to navigate around the employee's re-stocking shelves but for me, that's a worthy sacrifice to skip the weekend crowds.
Crock Pot Survival: Finally, if you don't have at least one crock pot, you are missing out on a key survival tool! We cook at least one meal a week in the crock pot. You can cook pretty much anything in a crock pot that you can cook in an oven. Some of my favorite crock pot meals are simple, easy and require few ingredients. The best thing about a crock pot, besides the fact that you don't have to actually cook dinner, is you can put it together the night before, throw it in the fridge and then pull it out in the morning and voila, dinner when you get home.
Thankfully we have been able to calm the chaos of dinner time thanks to some helpful tips and the addition of our crock pot meals. Below are my favorite crockpot dinner recipes, please share your favorites with me in the comment section below!