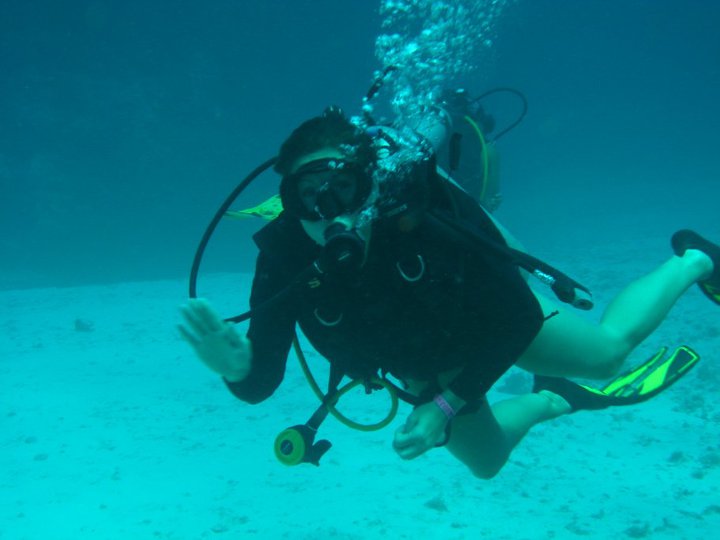 Growing up, I loved the water, from the moment I was born I was a fish. My first job was as a Lifeguard, my career started and continues to be in aquatics, I met my husband at the pool. It seems although I was born and raised in a land locked state (Denver, CO), my soul longs for the ocean. The thought of scuba diving never really crossed my mind until I met my husband. He grew up spending summers at his dad's house in Belize. He couldn't believe I didn't dive, not only that I didn't dive, that I had never even tried it. I will admit, I was more than slightly nervous to try scuba diving. Even given my love for water the thought of being under the ocean, reliant on a tank to breathe intimidated me. After some strong persuasion, my husband convinced me to give it a shot.
I tried a discover scuba class that our local dive shop offered. It wasn't amazing, it wasn't terrible but it wasn't amazing! My first thought was, well, here is the pool I swim in every other day from a different angle. My second thought was, this breathing underwater thing isn't as difficult as I thought it would be, maybe I should give it a shot. Next thing I knew, we had a trip booked to Puerto Morelos, Mexico and I was signed up for a PADI open water class.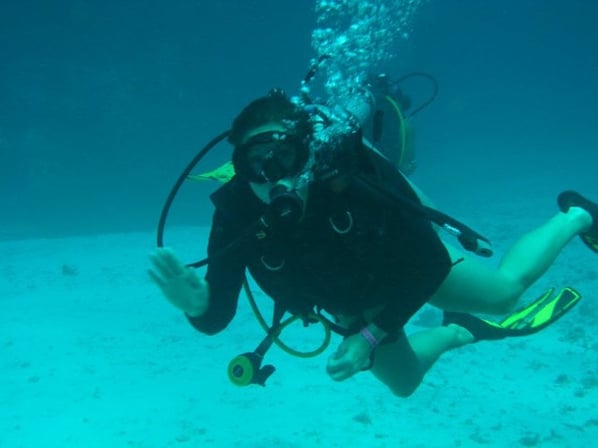 Sitting on the dive boat in Mexico, I was terrified to go under, especially when the dive master told me we had to back roll off the boat. This is not something you practice in the pool during training and is more than slightly intimidating for your first ever dive. After one successful back roll and a weight check we were descending. It was breathtaking. Not the kind of breathtaking where you can't breathe, the kind of breathtaking where you didn't know this entire other world existed. I still remember that dive like it was yesterday. I have experienced countless dives that have mesmerized me in one way or another since that day but that sunny day in Puerto Morelos in 2009 changed me.


Learning to dive brought a bond between my husband and I that I cannot describe. Having him as a dive partner is an amazing way to increase the bond and trust two people have in each other. As dive partners we have continued our diving skills and worked through advanced open water and rescue diver certifications, we have learned how to work as a team, have trust in one another, new ways to communicate with each other and share a love for something that is deeper than yourself. Now, as we embark upon raising two boys together, we daydream about their first dives. We can't wait to share the passion that we both have for the ocean with our children and watch them experience the things we have been fortunate enough to experience. Our oldest son already shows a love for water that rivals his moms! I long for the day he is old enough to get is junior open water and take his first plunge with us.


That first dive, and every dive after have given me a new outlook and respect for a world that most don't know even exists. Until you have swum up on a 5ft long turtle in Belize or swam through shipwrecks with amazing stories to go with them, you don't have the same respect for the ocean as a diver does. Now I recycle, I worry about what goes in the ocean. There is a whole ecosystem under there that depends on us caring. Calling all shoppers… Did you know some Method products sold are part of a beach to bottle project that uses debris from ocean plastic as packages? Pretty cool if you ask me!


There is an unlimited number of places and ocean creatures to explore out there. Diving has opened me up to a new sense of adventure. I never want to go to the same place twice! Even if we go to a destination we have been to before, I want to see new and different parts of the ocean. There are limitless places to explore and each comes with a story. The ride in the boat is as much a part of the experience as the actual dive. Hearing the dive masters tell the stories of the place you are about to dive and then getting to go experience it, you are continually learning about the history, the culture, the life of the land you are visiting. It is important for me to learn and experience things that are far different than the life I live; it gives you a newfound appreciation for life. As my children grow, I will make sure they are exposed to the culture of the communities we visit as much as the ocean. Having an appreciation for the whole picture helps grow well rounded children.
From countless sea turtles and coral swim through caves to shipwrecks and rays, every dive since then has changed me, not just my memories but it changes my soul. As I write this in my office looking at the majestic Rocky Mountains in Denver, I long for the Ocean. I long for that next experience of a new land, a new ocean, a new culture.