Lone Tree Swimmer of the Month
Will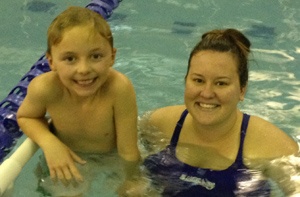 Age: 6
Current Level: 7
What is your favorite part about swimming?
Doing cannonballs at the end of class.
What is the most difficult stroke for you?
Even though it isn't a stroke, flip-turns are the hardest.
What do you want to be when you grow up?
A wide-receiver in the NFL, hopefully for the Broncos.
Who is the best swimmer you know?
Missy Franklin, but I don't know her personally.
"Will started swimming with me in August of 2013. Since then we have been working on getting to him his goal of getting his level 8 ribbon.
I nominated Will for swimmer of the month because I was impressed with how hard he always works. We worked on our flip turns for months and even though he did not get them right away, he never gave up or showed me he was getting frustrated. Will always pushes through to perfect new skills.
Will just passed level 7 and is now working on that level 8 ribbon and hopes soon to achieve his goal.
Will is a great swimmer and a great student!"
- Ms. Amanda