Swimmer of the Month
Biya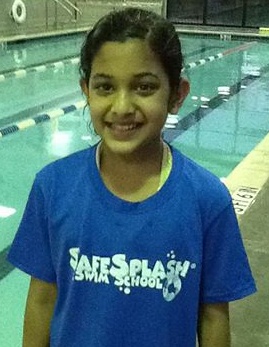 Biya has a great freestyle! She always comes to class with a smile on her face and ready to swim! Biya is very comfortable in the water and listens closely to her instructor during class. This gives her the ability to make things happen in the water.
Biya is 8 years old and in the 3rd grade. In addition to swimming, Biya loves to read. Her proud parents are Babitha and Silvy; and her sister is Diya, who is also a SafeSplash swimmer.
Biya's mom told us "Both Biya & Diya like swimming very much. They are always waiting for Thursday to arrive because it is SafeSplash Day!"
Congratulations to Biya!
We are very proud of you!