Student of the month: Palmer
Future Paleontologist!
---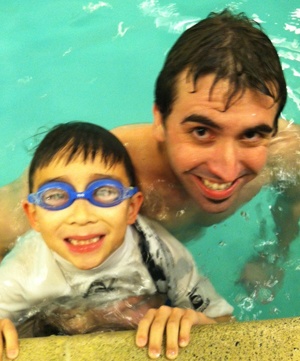 Palmer swims Wednesday evenings with instructor Chris. Palmer first began learning how to swim 6 months ago at SafeSplash. Palmer's favorite activity in swim class is diving to get rings from the bottom of the pool. His favorite swimmers are his first two swimming instructors, Mr. Chris and Ms. Tiffany. His favorite sea animal is … his teacher Mr. Chris! Palmer is currently a level 2B and can swim across the aerobic pool by himself! If Palmer had one wish it would be that the pool be as hot as a hot tub or that he could have a Skylander Power Portal for Christmas (hint hint Santa). After swimming when Palmer grows up he hopes to be a Paleontologist!
Palmer also wants to let everyone know that he loves SafeSplash!