Swimmer of the Month
Prishina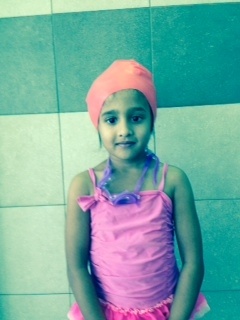 Prisha was very hesitant to go into the water when she first started swimming with SafeSplash. These days she loves swimming and looks forward to going to class each week. She has made tremendous progress and is now picking up rings!
Prisha is a Level 2B swimmer and has been swimming with SafeSplash for 13 months. She is 5 years old and in the 1st grade. Prisha enjoys reading and playing with her sister. She loves reading "Arthur" books and watching "Arthur" TV shows.
Prisha's sister, Shriya, was also a SafeSplash swimmer. Shriya is now swimming with the City of Richardson (COR) Swim Team.
Congratulations to Prisha! We are so proud of her accomplishments!