Parker and Arapahoe
Swimmer of the Month: Blake
Master Side-breather!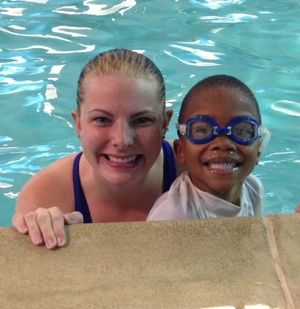 Name: Blake
Age: 6
Current Level: 3
Level Started: 1
What is your favorite part about swimming lessons?
A. Side breathing
What is your favorite stroke?
A. Backstroke
What is the most difficult stroke for you?
A. Backstroke
What skills have you learned that you are most proud of?
A. Sidebreathing and Backstroke
What is your favorite thing that your instructor does during lesson?
A. Teaching me the sidebreath
What motivates you to get your next ribbon? Or pass the next skill?
A. Focus and pay attention
If you could be a teacher for a day, what would you teach?
A. Math
What do you want to be when you grow up?
A. Ice-cream man.
Who is the best swimmer you know?
A. My teacher ( Alyssa Garret)
Blake is such a happy guy, I love having in my class! He is always trying his best and watching him become a stronger swimmer has been a pleasure. We have worked really hard on making sure Blake knows his safety skills. We are also continuing to work on mastering the backstroke and freestyle.
Blake has come so far in the amount of time that I have had him. Blake brings laughter, smiles, and dedication every week to class.The joy he gets from swimming reminds me why I love my job!