Swimmer of the Month

Mariano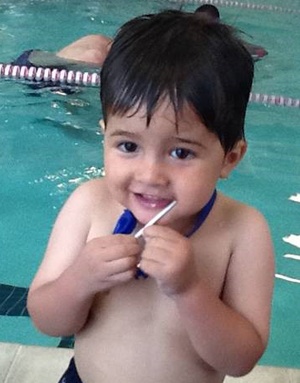 Mariano is an adorable 3 year old boy that has done a great job over the last few months. He used to be scared of Monkey crawls, but now he LOVES this activity!! Mariano has become a great swimmer with strong kicks! He is brave and his favorite part of class is JUMPS! Mariano swims two days a week at SafeSplash. Both of his instructors love to teach him.
Mariano is a Level 2A swimmer and has been swimming at SafeSplash for 5 months. He loves to play with trucks and cars. He also likes to take walks and listen to music. One of Mariano's favorite things to do is pretend to be "daddy" and dress up in "big boy" clothes!
His mom and dad, Mariana and Gustavo, are so proud! They cheer for him and his swim-mates at every class!
Register today at www.safesplash.com at any of our Texas locations.