Carter is our June Swimmer of the Month!
Carter is a level 3 swimmer and he has been swimming at SafeSplash for six months. Carter always gives 100%. He tries his best at every lesson and is such a good learner. He has doubled the distance he can swim and all of his strokes have improved. Carter loves swimming and it is so much fun to teach him.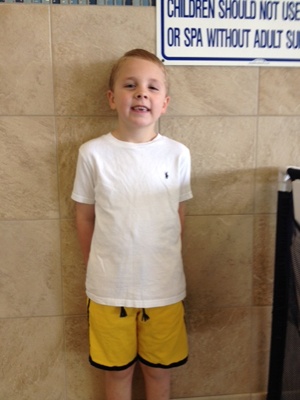 Carter is 6 ½ years old. He will be a first grader at Camey Elementary this fall. His hobbies include swimming, baseball, Legos, and reading.
Carter's proud parents are Corie and Paul. He also has a brother Chase. Carter's mom told us his favorite thing to do at SafeSplash is jump into the pool. Congratulations to Carter! We are so proud of all your hard work!