Swimmer of the Month
Lois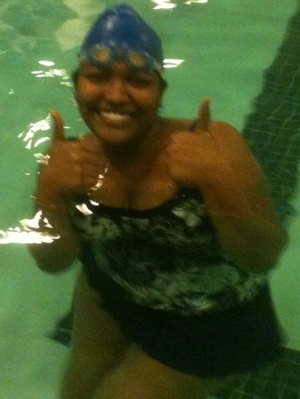 Lois is from Southern India where her parents and two siblings still reside. She has another sister, Bernice, who lives in Phoenix. Lois works for a software company and enjoys reading and watching movies.
Lois found SafeSplash through an online search when she decided it was time to overcome her fear of the water. Lois has been with SafeSplash for just 2 months, and she has accomplished so much. She has worked through her insecurities and is swimming freestyle on her own! Even with the bit of fear she has left, Lois comes in every week with a huge smile on her face and ready to practice!
Lois is one of the many brave adult swimmers we have at SafeSplash Keller. She is a great example for any adult wanting to take that leap and sign up for lessons! It is never too late to learn how to swim!
We are so PROUD of Lois and wish her ALL the best as she continues to swim in the future!
Lois, thank you for choosing SafeSplash! We are so excited to be part of your journey to learn to swim!!