Easton
has big plans to race Mr. Brian and then go for the gold!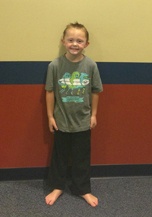 Favorite thing about SafeSplash: It has awesome teachers
Who invented swimming: Mr. Brian
Favorite thing about swimming: Getting wet (and that I am good at it.)
Favorite place to vacation: Cozumel, Mexico
What is the proper age to start swimming: One month old
Who is the best swimmer you know: Me (and Mr.Brian)
What do you want to be when you grow up: an Olympic Swimmer
What will motivate you to get your next ribbon? Racing Mr.Brian
Easton has been swimming at SafeSplash Lone Tree since 2011, when he started as a 2A. Since then he has progressed through our program and is currently a level 8, swimming in our Highlands Ranch Swim Team Prep Program, the WAVE. His instructor, Mr. Brian is so proud of Easton that he is constantly telling people about his "little superstar swimmer!" We are so proud of this little man!