Congratulations to Maddy and Jahnavi! They have completed Level 8!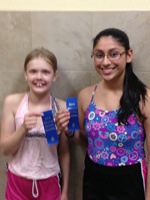 As Level 8 swimmers, the girls have the skills required to compete competitively with a swim club or a school swim team. In fact, Jahnavi hopes to try out for her high school swim team in the fall. Jahnavi started with us as a Level 4, and Maddy started as a Level 5 swimmer. They have worked very hard to complete the higher levels and both are great swimmers!
Jahnavi is in 9th grade at Williams High School. Outside of swimming, her hobbies include reading, listening to music, and playing the violin. Her brother, Asihant is also a SafeSplash swimmer.
Maddy is eleven years old and in the 5th grade. In addition to swimming, Maddy enjoys hula hoop, duct tape art and crafts, and running. Maddy's brother, Alek, is currently one of our instructors! Her other brother, Kyle, was a SafeSplash instructor until he went to college last fall.
We are very proud of both girls! We hope to hear big things from them in the near future!