Benjamin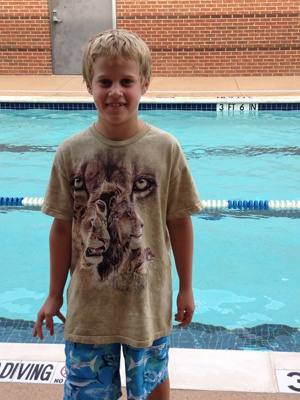 The September SOM is Benjamin – a Level 5 swimmer. He is eight years old and in the 3rd grade. Benjamin loves to swim, play with his friends, and practice karate. He also enjoys computer time with his brothers, playing Age of Empires.
Benjamin's proud parents are Robert and Darlene. His brothers are Robby and Andrew.
Why was Benjamin chosen as SOM? Let's see if we can list all the reasons that his instructors, Jelia and David, gave us!!
Great freestyle
Never complains
Enjoys class
Funny
Skilled at backstroke
Can streamline
Always come to class with a smile
Love to dive!
That list says it all! Benjamin is SOM because he is a Super Student! He told us that he thinks SafeSplash is Awesome. We think Benjamin is Awesome too!