---
Congratulations to Samuel, our May Swimmer of the Month!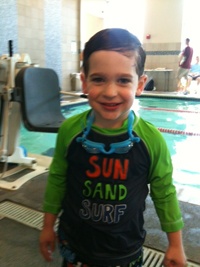 Samuel loves going to swim class each week. When he started lessons, he had tears but would still participate. Eventually, we had new students in the class with tears. Samuel stopped his tears and told the new kids "no more tears". He began to lead the class and the others watched him. Now Samuel is so brave and tear-free! He comes to class super happy and ready to swim. His kicks are getting stronger every lesson, and he is able to swim off and back to the wall. Samuel is also very comfortable doing his back floats. He is becoming stronger in the water at every lesson.
Samuel is a Level 2A swimmer and is 3 ½ years old. He loves playing with his toy cars and trains; and playing on the computer. Samuel loves getting outside and going to the park to play. His proud parents are Jennifer and Edward.
Samuel, we are so proud of you and your accomplishments!!