Congratulations to Addison, our May Swimmer of the Month in Colorado! Addison is 3 years old and swims in a Level 2B with Ms. Kelsey at our Lone Tree facility.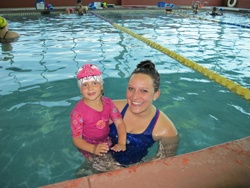 Current level: 2B
Level started at: 1
What is your favorite part about swimming lessons? Jumping
What is your favorite stroke? Chocolate Mint ice cream scoops
What is the most difficult stroke for you?
Backstroke
What skills have you learned that you are most proud of? Jumping!
What will motivate you to get your next ribbon? Being nice to Ms. Kelsey will get me my next ribbon
If you could be a teacher for a day, what would you teach? I would teach Ms. Kelsey
What do you want to be when you grow up? A princess
Who is your favorite princess? Rapunzel
Who is the best swimmer you know? Mason (her brother)
What is your favorite food? Fruit snacks
Congratulations Addison! SafeSplash is so proud of you!