Swimmers of the Month
Chloe and Nancy
---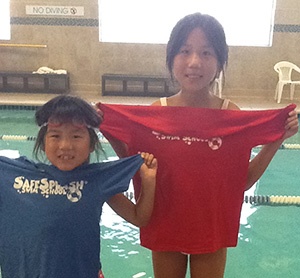 Sisters, Chloe & Nancy, always come to class ready to work hard, and we are so proud of what they have accomplished!! Chloe could not swim independently when she started swim lessons. She is now learning freestyle with side breathing and backstroke. Nancy was a swimmer, but has increased her skill level and is now working on the breaststroke.
Sister Stats
Chloe is 5 years old
Nancy is 9 years old
Chloe is a Level 4 swimmer
Nancy is a Level 6 swimmer
They have been swimming at SafeSplash for 9 months
Hobbies: They both enjoy drawing, games & tennis
Chloe loves to sing
Nancy plays the piano
Parents: Lihong & Zhen
Great work girls! We are so proud of all your accomplishments!
Register today at any of our Texas locations at www.safesplash.com.