Aiden is our April Swimmer of the Month! He is always happy when he comes to swim lessons at SafeSplash. He has been swimming with us for the past six months and has made huge progress. He has gone from playing on the stairs to being a focused 2B swimmer in the lane.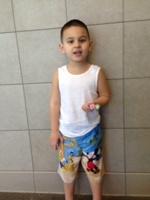 Aiden is very comfortable in the water and is always willing to try new things!
Aiden is 3 years old. He loves to play with his cars, water Sponge Bob, and spend time with his sister and Quaker parrot. Aiden's proud parents are Jennifer and Edwin.
Congratulations to Aiden! We are proud of your accomplishments!