Swimmers of the Month
The Aji-Kurian family
is the SafeSplash Swimmers of the Month!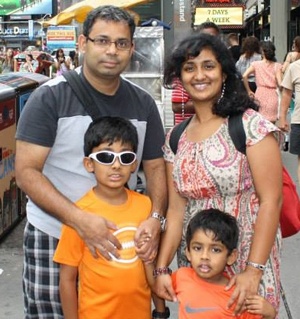 This swimming family is so much fun and we love having them at SafeSplash. Nathan (9) and Daniel (4) have been swimming with us for the last six months. Their parents, Ninu and Paul, decided to join the boys and started taking swim lessons in November. Everyone is making great progress! Nathan is a Level 4 swimmer and Daniel is a Level 2B swimmer.
It is so exciting to see parents joining their children in an activity, especially one that is such great exercise.
In addition to swimming, this family has other interests as well. Nathan loves to read and plays soccer. Daniel is into video games. Ninu also love to read, and Paul enjoys computers.
Congratulations to the Paul, Ninu, Nathan & Daniel! You all are awesome!