Student of the Month
Kayden!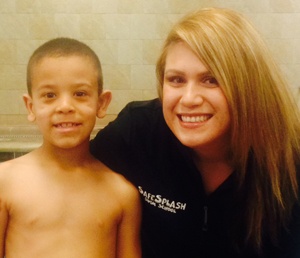 Kayden has been with SafeSplash San Jose for almost 4 years! He started February 2010 in a level 1 class. When he started, he could only put his face in the water and attempt to blow bubbles. Now Kayden is a Level 6! His greatest accomplishment while at SafeSplash is being able to swim across the pool, under water, in one breath! His favorite sea animal is the short fin mako shark, because it is the fastest shark in the ocean.
Kayden's grandfather Jim stated "Over the past 4 years Kayden has attended nearly 200 swim lessons at SafeSplash. He has always had fun. In January he will start pre-competitive swim lessons. Thanks, in great part, to Jenene and her SafeSplash team! Kayden is very comfortable in the water. We went boating with Kayden's Aunt last summer and he was knee boarding in no time."
We are very sad to see Kayden go but we would like to congratulate Kayden, and Grandpa Jim, for their hard work and dedication while at SafeSplash Swim School!
Good luck in pre-competitive swimming Kayden!