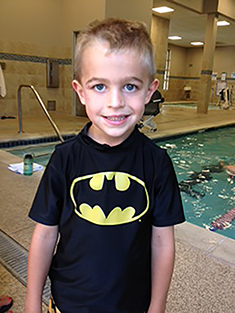 SafeSplash Centennial
Swimmer of the Month
Evan
Evan is this month's swimmer of the month. He has been swimming at our Centennial location for more than a year. For a majority of that time, Evan really did not like to put his face in the water.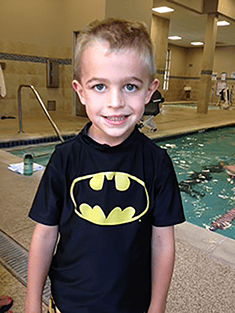 He would join class, sometimes reluctantly, but was not so sure about the whole swimming thing. The persistence has paid off! This summer Evan has made huge strides. He goes completely underwater, floats on his front and back and recently did his big arms. He is now a level 2B and could quickly move to a level 3. We are so proud of him!
Here are some quick facts about Evan:
Favorite Food: Ravioli
Favorite Color: Blue
Favorite Superhero: Batman (he even has Batman swim trunks and swim shirt!
Favorite thing to do at swimming lessons: Go on the barbell
Hardest part of swimming lessons: Going underwater Best swimmer he knows: His sister Brianna (She is in our Wave swim team prep program
Way to go Evan! Keep up the great work!
Register today at www.safesplash.com at any of our Colorado locations.