Zayd has been with SafeSplash for over one year. He started out as a low level 1 and was terrified of being in the water because a previous swim school would dunk him in the water.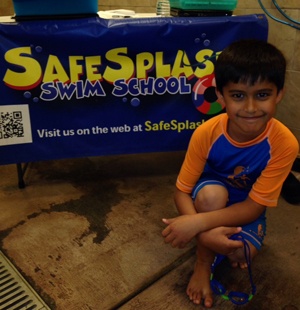 Zayed has been swimming with instructor Jenene, his favorite instructor. He is now a level 2B and can swim over half the aerobic pool by himself! His favorite skill to practice is big arms and jumps. He also loves to play "Sharks and Mermaids".
When Zayd grows up he would like to be either a scientist or a drummer! Zayd's mother stated "Because of swim lessons Zayd has learned that he can do anything he puts his mind to if he practices".
Zayd has made a huge transformation and we are very proud of him!
Register today at www.safesplash.com at any of our California locations.