Swimmer of the Month
Dhriti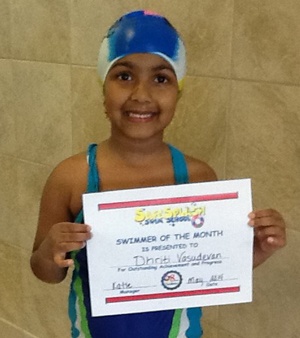 Dhriti has been a SafeSplash swimmer for a little over a year. Wednesday is her favorite day of the week because she "gets to go swimming"!! Dhriti always comes to class with a huge smile on her face and full of perseverance. She is always excited to learn new techniques and ready for a new challenge.
Drhiti is 6 years old. In addition to swimming, she enjoys dancing, singing, ice skating, and reading. Her parents, Asha & Vaudevan, are her biggest cheerleaders. We are all excited to watch her continue to learn and grow with SafeSplash!
Way to Go Drhiti! We are all very proud of you!