Swimmers of the Month
Ethan and Ava
"Fish and Mermaid"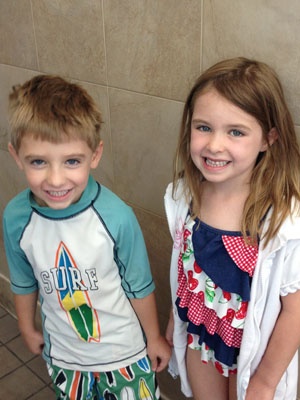 Ethan and Ava ("Fish" and "Mermaid") are twins and the Swimmers of the Month! They are referred to as "The Little Fish" and "The Little Mermaid" by their family. Ethan and Ava come to class on time and ready to go with caps and goggles in place. They always have smiles on their faces and good attitudes for learning. Their awesome attitudes include enthusiasm, listening, being ready when it's their turn, working hard, and setting a good example for the class. Ethan and Ava are a joy to teach!!
They are both quick learners. Ava completed Level 2B in record time! Ethan no longer has tubes in his ears and is beginning to gain more confidence at every lesson.
Ethan and Ava are six years old and going into first grade. Their hobbies include soccer, chess, karate and coloring. Ava is currently a Level 3 swimmer and Ethan is a Level 2B. We are very proud of "Fish" and "Mermaid" and look forward to them becoming outstanding swimmers!!