Sheridan is an awesome swimmer. She always shows effort when she comes to swim lessons and never complains!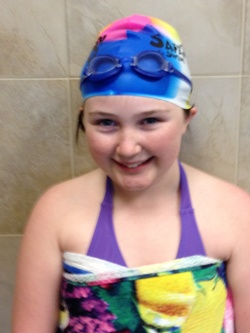 Sheridan is a Level 6 swimmer and is quickly moving towards perfecting her breaststroke! Her instructor enjoys having her in class.
Sheridan is 10 years old and in the 5th grade. In addition to swimming, her hobbies include horseback riding, computer games, and taking pictures. Sheridan is involved in church activities; and is a member of the National Elementary Honor Society Chorus.
Sheridan has a large family. Her proud parents are her mom and stepfather, Shelly and Mark; and her father, Paul. She also has a step brother and three step sisters.
The SafeSplash Staff is very proud of Sheridan! Keep up the great work!