Swimmer of the Month
Lacy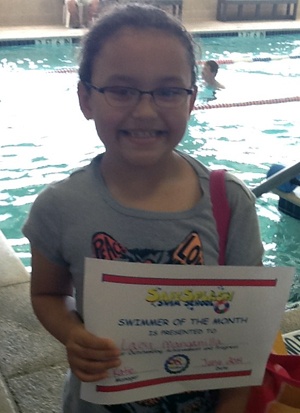 Our June Swimmer of the Month is Lacy. She has only been with SafeSplash for 3 short months, but she has already made quite an impression! At 8 years old, she is currently a level 3 and improving quickly! She has worked with instructors, Berkley and Rosalyna. We chose her because she not only works hard to improve her own swimming, but she is always a cheerleader for the other students in her class. She always comes to class with a huge smile, and makes sure to say hello to all of the instructors. She is a great swimmer and a joy to have around the pool!
Outside of the pool, Lacy enjoys cooking, reading, and playing soccer!
Her parents, April and Paul, and her brothers, Ryan and Joseph, are all so proud of Lacy and so are we here at SafeSplash!
Register today at www.safesplash.com at any of our Texas locations.