Swimmers of the Month
Jonathan and Anthony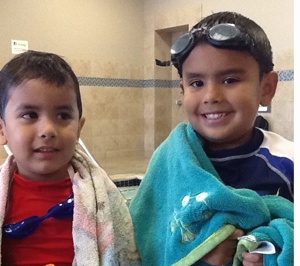 This month we have two Swimmers of the Month, Jonathan and Anthony. They have been swimming with SafeSplash for three months, and are such wonderful kids! They are both in Level 2B, and are always cheering each other on.
Anthony is in kindergarten, and Jonathon is in Pre-K. Outside of swimming, they both love playing baseball and building with Legos. Their parents, Juan and Paty, are so proud of them!
We chose Jonathon and Anthony because they have made so much progress in the past three months! They always have the biggest smiles during class even when they are trying something new and scary. Most of all, they have awesome jumps!
Their instructors love working with them, and we are so glad to have these boys swimming at SafeSplash!
Register today at www.safesplash.com at any of our Texas locations.