Swimmer of the Month
Ella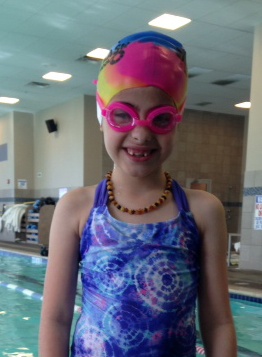 Ella is 6 years old and in the first grade. She started swim lessons twice a week in February. Ella has amazed us with her fast progress in only one month's time. She has quickly gone from being afraid of the water to a confident swimmer that swims half the pool.
Ella loves cooking, puzzles, and reading books. Her favorite movie is "Frozen". Her proud family includes mom and dad, Hagar & Billy, and her brother, Leo. Ella's mom commented, "Ella loves coming to swim lessons and practicing in the bath tub. We are proud and impressed with her progress".
Congratulations to Ella on her accomplishments. Ms. Sarah, Ms. Jessica, and the rest of the staff are very proud of you!!