My first introduction to SafeSplash was as a customer. I registered my one-year-old daughter in the Parent N Me class back in January. It was important to me to start her in swimming as early as possible so she would feel safe and comfortable in and around water and eventually learn to swim. This was before I knew that my neighbor worked here, before I knew how large the company actually was, and especially that there was a job here for me.
I was asked to write blogs in exchange for swim lessons first,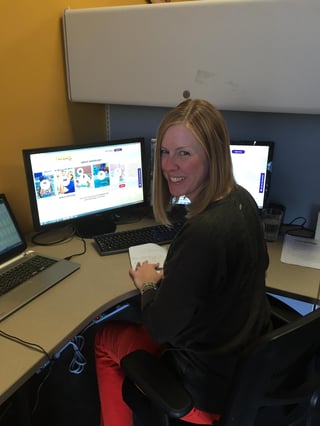 which I was of course excited to do. The first one was Why My Daughter Attends SafeSplash Swim School, and the second was about an encounter I had with a grandmother I met during one of our lessons. She happened to be from the same country as my husband, so we all had a bit more in common. That blog was about what drew them, as a family, to the water. A Visit from the Isle of Man: Swimming is a Life-long Sport.
From there, more conversations with the leadership at the company took place, making me more and more convinced that this should be the next move for my career. I was not only impressed with the experience my family was having with lessons, but also by my interactions with the customer service center and the follow up done by the school itself regarding our daughter's experience. We definitely felt a sense of community at the school, and the more I spoke with employees of SafeSplash, the more I started to see a common mission amongst the entire team.
That mission seems be to get as many kids in the water as early as possible – and not just to turn a profit. I believe this is necessary for children in order to ensure confidence in little swimmers and peace of mind for parents. In the four months that we have been taking lessons, our little one cannot wait to get in the water, jump in the pool and float on her back. She has never been hesitant around the water or other pools, but the other stuff came later. She kicks and moves her arms when trying to get around, silently (and sometimes not so silently) ordering me to bring her from one end of the pool to the other.
The transformation that I have seen in this short period of time has been phenomenal, and I know that other parents are experiencing the same thing. I want to tell more people as part of this world-class marketing team. This makes me even more committed to being the best marketer that I can be, for a company that is doing something incredibly important, not only for my daughter, but for many thousands of other children across the country every day.
I am proud of my team, the company, and all the work that is collectively done every day to keep kids safe while having fun and making friends. Most importantly I'm proud of my 17-month old girl, for her love of life and the water, and going about both without fear or hesitation. I'm also thankful to her because if it weren't for her, I'd be spending my time elsewhere for a completely different purpose – and possibly not having as much fun!
Interested in joining our amazing team? We're hiring!