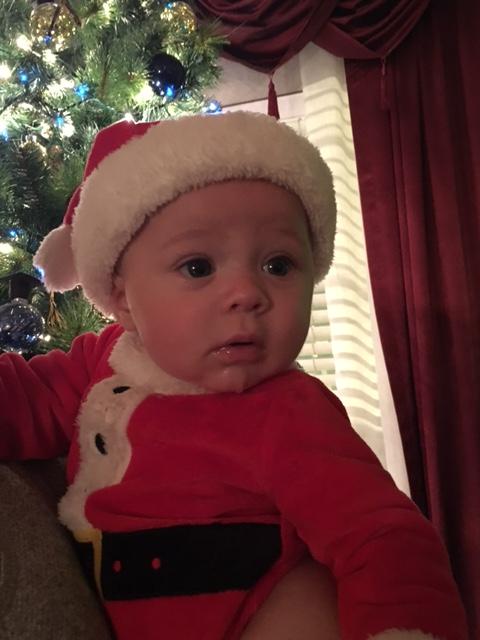 Being a new mom is amazing! There are so many exciting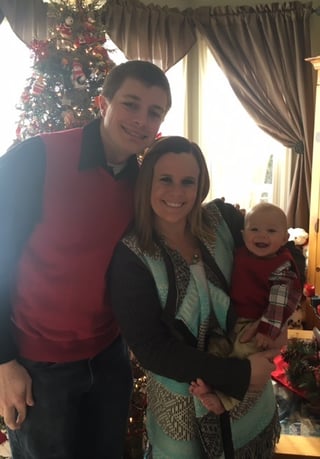 "firsts" that you are experiencing. So many ups and quite a few downs but ultimately a very rewarding experience. I am a lucky mom of an adorable little four-month-old baby boy, and over the past few weeks I have been so excited for the holidays…like, more than normal! Typically during this time of year I try to avoid most public areas due to the hustle andbustle, grumpy shoppers, and the pressures to find the perfect gift for each family member. However, this year I want to be a part of every tradition and crazy moment that the holidays have to offer and I want my little man involved in it as well. This got me to thinking…am I crazy for going all out for four-month-old baby who will not remember any of this? If you are feeling this way too—you are not crazy because there are so many fun "holiday firsts" that you can share with your baby!
Picture with Santa: Whether they cry or smile, looking back at the first time your baby meets Santa is going to bring up a whole new conversation piece with your child when they are older. Holiday memories bring me closer to my parents each year and I can't wait to share the joy I felt when he first sat on Santa's lap.
Holiday Lights are the ultimate way to entertain your curious little one. My son LOVES tummy time next to our Christmas tree. He rolls around with joy as he admires the bright lights that his dad spent hours putting on our tree. Another Kodak moment of him "dancing" around the tree!
I can be creative with my gift giving! This year my husband and I decided that we can get away with just a few small gifts for our baby since he will not recall or be able to count how many presents we put under the tree or stocking. We decided to start his Disney movie collection, put some money away for his college, and invest in our first swim lesson. Although, we are two months away from getting him into the pool for his FIRST swim lessons we know that a gift like this will go a long way. Fun for us, fun for him. Safety for us, safety for him! It's a gift that keeps on giving.
My hope for all those first time parents out there during the
holiday season is keep enjoying your baby's firsts! Take pictures and talk to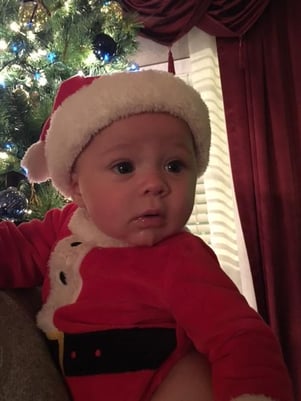 your baby about all the fun memories you are making with them. Despite the craziness of the holidays enjoy the time with family and friends because your baby is learning from you---the joy they bring you is the same joy you can share with during their holiday firsts!