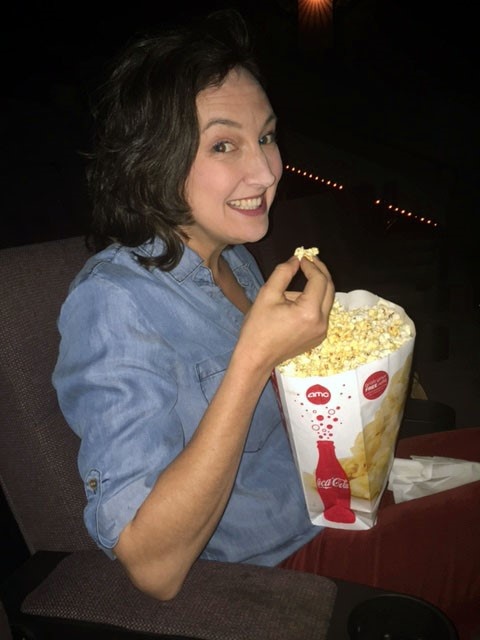 I LOVE the Oscars! I love the Oscars even more than I hate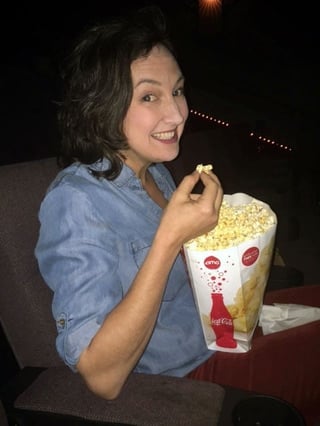 post-holiday winter. Every year, I find January to be on the brutal side…like one month-long holiday hangover. I feel lost and sad after the beautiful and exhausting chaos of the previous year explodes with the New Year's skies. I try to be inspired by grocery store magazine resolutions and fitness makeovers plastered throughout social media. But each year brings mixed results and I often still feel kinda lonely…until I hit my Oscar groove, my reason for this dreary season.
The Academy Awards become this awesome reason to connect with friends and take time for myself. They give me designated little windows of time that I don't feel guilty crawling out of. I can make a detailed Oscar plan and stick with it…or I can ditch parts of it and change it as life directs. It's great fun to host or attend a party on the Big Night, but living vicariously through the lavishness with a big bowl of popcorn (stove popped please) and a glass of wine is often the perfect amount of fun for my busy schedule.
It's very important to come up with a plan (or decide to follow along with someone else's). I'm going to walk you through it this year because, well because I like to share and I like to feel connected. So connect with me and start a list.
First, are there any movies you've heard of that really just grabbed your interest? It's ok if you've been so busy slinging sippy cups and sports bottles that you weren't even aware any new movies were actually released this year. Read that People magazine in the Dr.'s office. Better yet, give yourself permission to spend $5 and splurge on the Entertainment Weekly in the checkout line. You could also look over my list below and see if any names ring a bell.
Start making lists off the buzz before the official nominations go out. OK, so Leo and The Revenant won at the Golden Globes. Will his standoff with Oscar finally end in 2016? Looks like Spotlight and Mad Max: Fury Road racked up at the Critics' Choice Award. The cast of Spotlight is spot on (sorry had to do it). Last year's Best Actor Oscar winner, Michael Keaton leads the cast and Mark Ruffalo is nominated (for the second year in a row) for the Academy's Best Supporting Actor. Brie Larson is a newcomer to the Oscar scene but has already picked up several best actress awards for her powerful role in Room. I could go on and on…
Once your lists are generated, it's time to go to the movies, or stream them, or pick up a DVD. Text some friends, go see a movie after you put the kids to bed. Invite the girls over one afternoon and let the kiddos nap and watch Frozen again while you watch Matt Damon grow potatoes on Mars. I used to think it was odd to go to the movies alone, now it's one of my favorite things. Let the kids stay home and watch football with the hubby one Sunday and get your reel on ALL BY YOUR SELF! Not only is it OK, to break out of your routine and escape the mundane for a couple of hours, it will probably make you a nicer, more patient human being.
Don't force yourself to see a movie you have no desire to see. Maybe it would make you a more well-rounded person to watch Charlize Theron be a complete badass in the desert, maybe it would open your eyes to a whole new genre, blah, blah, blah. Save that for the time in your life when you can go to the bathroom without Shopkins and Legos being pushed under the door and your list of things to do no longer links the words "car" and "pool" together. Sorry Mad Max, this Mama believes the Oscars are all about little slivers of self-indulgence, not obligation.
In that same vein, while I think it's fun to end Academy Awards season with an Oscar party, the whole social plan should be as loose or as detailed as you need it to be. DO NOT STRESS out over movies unseen or parties unplanned. Indulge yourself a little, keep it loose, and make sure you mark your calendar for Feb 28th when Chris Rock will be hosting the 88th annual Academy Awards. Check out the films on my chart below or round out your choices with the complete list of Oscar nominees. After watching your top picks, you can also participate in The Official Oscars Challenge and determine who you think will take home the coveted Oscar statue. I know I have my favorites! Please share your top Oscar picks, favorite movies or your party plan in our comment section below!