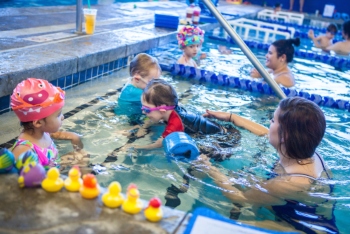 "In 2014, a survey completed by the American Red Cross found that more than half of all Americans (54 percent) either can't swim or don't have all of the basic swimming skills." - The World's Largest Swimming Lesson
SafeSplash Austin participated in the annual "World's Largest Swimming Lesson" this week. The event, originally created by the World Waterpark Association in 2010, aims to highlight the importance of swimming lessons as a "life-saving skill for children and a vital tool to prevent drowning, the second leading cause of unintended, injury-related death for U.S. children ages 1-14" explains the organization.
About the world's largest swimming lesson
Celebrating its eighth year, the World's Largest Swimming Lesson (WLSL) event happens over a 24 hour period across the entire world! Organizations around the globe sign up to participate each year highlighting the importance of swimming lessons and water safety skills at their individual facilities. Team WLSL hopes to reach 1 billion people this year with the message "Swimming Lessons Save Lives".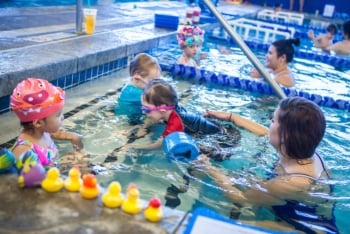 Swimming Lessons in Texas
This year local Austin news stations were on hand while SafeSplash Austin swimmers and instructors participated in the worldwide event. "Most likely, if kids are taught in an organized setting, children who take swim lessons are much more likely to avoid any sort of swim-related accidents. Swimming is healthy. It's a life skill and something that they can do now and forever to keep them healthy." said SafeSplash Austin owner, Betsy Zielinski, about the event.
See the news report below!
the World's Largest Swimming Lesson Highlights:
TEAM WLSL™ holds the current Guinness World Record™ for the largest simultaneous swimming lesson conducted at multiple venues. The official record was set in 2014 with 36,564 participants in 22 countries
In 2013, Sun-N-Fun in Naples, Florida, set a Guinness World Record™ for the largest swimming lesson conducted at a single venue with 1,308 participants
The WLSL event is truly global with 41 countries having participated since the event began in 2010. Participating countries include: Argentina, Australia, Bahrain, Bermuda, Bolivia, Brazil, Canada, Cayman Islands, Chile, Colombia, Cyprus, Ecuador, Falkland Islands, Germany, Ghana, Hungary, India, Italy, Jamaica, Japan, Lebanon, Lithuania, Marshall Islands, Mexico, Panama, Peru, Philippines, Poland, Portugal, Puerto Rico, South Africa, South Korea, Spain, Sudan, Switzerland, Uganda, Ukraine, UAE, United Kingdom, Uruguay and the United States
More than 50 life-saving and safety organizations have thrown their support behind TEAM WLSL™, helping spread the word to millions of people about this annual drowning prevention event
Register today if you are interested in learning more about SafeSplash and available swim lessons!

We have programs available for Toddlers all the way up to Adult Swim Lessons!
---
Advanced Solutions International, Inc., "WHO WE ARE." WLSL 2017 Home Page. World's Largest Swimming Lesson, n.d. Web. 23 June 2017. http://www.wlsl.org/WLSL/The_Event/About/WLSL/About.aspx?hkey=3d2c2584-484f-46a7-8288-6b25ef389a3c
Wallis, Jay. "Austin Kids Take Part in 'World's Largest Swimming Lesson'." KVUE.com. ABC KVUE NEWS, 22 June 2017. Web. 23 June 2017. http://www.kvue.com/news/local/austin-kids-take-part-on-the-worlds-largest-swimming-lesson/451341249