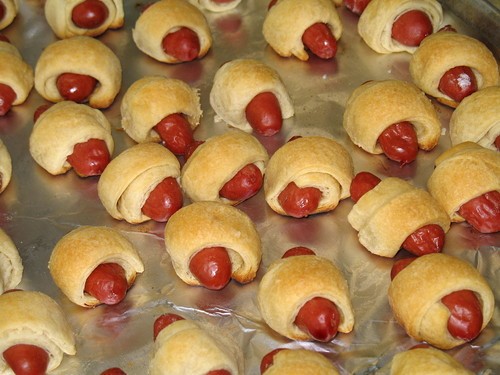 When you are cooking with kids it's best to keep things simple. A super fun recipe I do with mine is Pigs in a Blanket.
Ingredients:
1 package of cocktail sausages
2 packages of croissants (your favorite type)
1 package of shredded cheese (optional)
Preheat your oven to the temperature on the croissant package. On a cutting board unroll one tube of croissants, one at a time separating each triangle. With a butter knife or a pizza cutter, cut each triangle in half to create two smaller triangles. Take one sausage and place it at the fat end of the triangle. Sprinkle with cheese. Holding onto the bottom edge of the dough slowly roll sausages towards the pointed edge. After you have rolled up all of your piggies in their blankets arranged neatly on a cookie sheet and bake according to croissant package instructions.
Tip: Add to the excitement! Leave the oven light on so kids
can peek in the window watching thei tasty creations puff up.
Caution: Do not let the kids touch the oven as it can be hot.
When the timer buzzes let the piggies cool for 10 minutes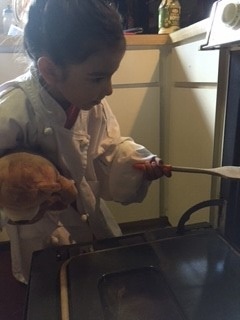 then help the kids scoop up their delicious meal and serve to the family.
This is a great breakfast idea and it can be done the day before and chilled in the refrigerator. Just wake up 10 to 15 minutes early pop in the oven and they'll be ready for breakfast.
Want more great kid friendly recipes? Check out our Pinterest!