At SafeSplash, we want your family to have the best swim lesson experience possible. Check out these five tips to make your time at SafeSplash a great one!
---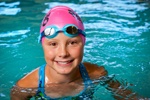 Consider your child's daily routine:
When scheduling your child's swim lessons, take into account their daily routine and how swim lessons fit into that. Lessons close to when your child naps or eats lunch can cause discomfort during their lesson. Try to pick a time when your child is most relaxed and ready to learn!
Arrive early:
At SafeSplash we want to encourage a fun and friendly atmosphere, and arriving on-time and prepared for lessons is one of the easiest ways to do this. The less rushed your child feels, the more comfortable and prepared they will be for lessons.
Get to know the staff:


Make your SafeSplash experience a great one by getting to know the manager, front desk staff, deck supervisor, and instructors at your facility! We are here to help, share information, and make sure your child is confident and comfortable in our program. If you ever have a question or concern, don't hesitate to stop one of us and ask!
Encourage your child:
At SafeSplash, we seek to foster a life-long love for swimming. Our instructors and staff will do their best to encourage your child and make them comfortable in the water, but parents can always help with this too! If a parent is anxious, nervous or worried, a child can sense this negative body language. Parents who stay positive, relaxed, and encouraging will help their child transition much more smoothly into swim lessons.
Bath time = Practice time:
Practicing swimming skills at home reinforces what your child learns at swim lessons. Splashing in the bath, practicing blowing bubbles, or getting their face wet are all great way to continue the learning at home! Practicing these skills at home also helps with your child's comfort level when they come to lessons.
---