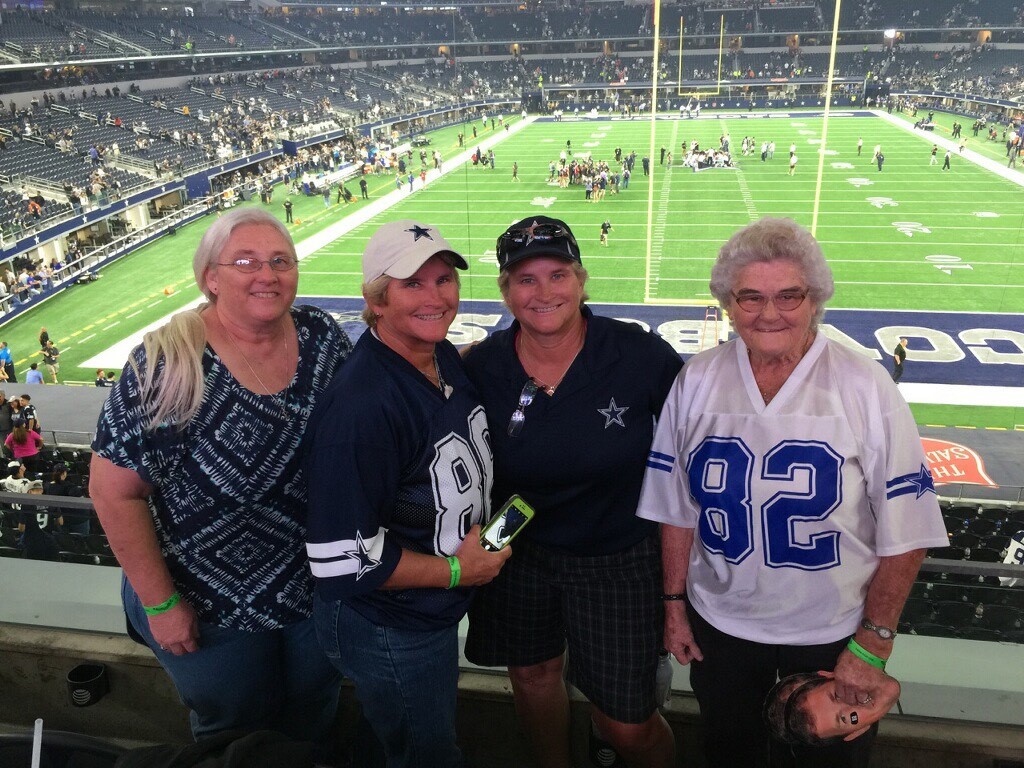 Many people who know me and know how much I enjoy being in the water may think my favorite season is summer when I can swim outdoors or go to the lake wakeboarding or to the coast bodyboarding. Although summer is one of my favorite seasons, it is not my all time favorite. Living in Texas we don't really get to experience seasons like Spring, Summer, Fall, and Winter but we most certainly get to enjoy Football Season.

My Favorite Season
I have enjoyed football season since I was a little girl watching with my dad. Believe it or not, the first team I rooted for was the San Francisco 49ers. Actually let me rephrase that, I was a Joe Montana fan. Anyone who enters my sports room at my house always asks me why I have a Joe Montana framed jersey amongst all my Dallas Cowboys Collectibles. Well, I don't remember how old I was but I walked in the living room and sat on the floor in front of my dad's recliner and asked him who he was rooting for since the Cowboys or Oilers were not playing. He said since he "didn't have a horse in the race he was just watching the game." Within about five minutes I started rooting for the red and gold team named the 49ers. Dad asked me what was the reason I started rooting for them after only watching for a short period of time. I said, "Check out that QB he is a cutie pootutie!" Years later, I realized being from Texas I was going to take a lot of heat if my favorite team was from San Franciso, so from then on I have been a Cowboys fan. I continued to root for Joe as long as he wasn't playing my boys. I even rooted for him in Kansas City even though I wished he would have retired as a 49er.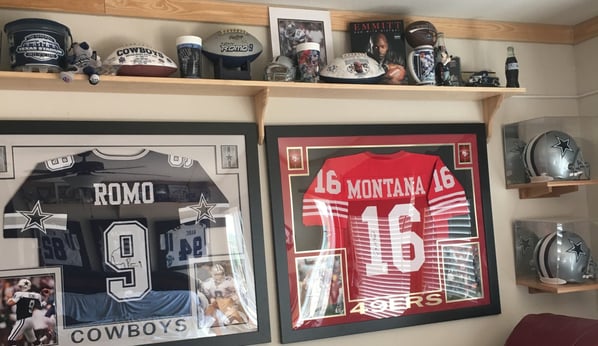 My Favorite Players
My favorite Cowboy was Jay Novachek because he was a true cowboy on and off the field (plus he wasn't bad on the eyes either), but I admired and idolized Emmitt Smith the way he played through a dislocated shoulder as well as always toughening it out through other injuries and pretty much carried the team on his back. He will always be my favorite running back.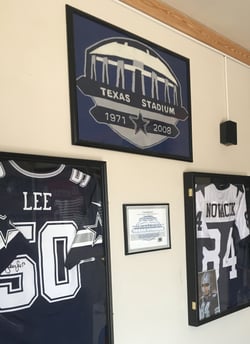 Through the last several years I have continued to support Tony Romo through all the criticism he endured. I really believe he is the best Cowboys QB we have ever had he just never had the entire package surrounding him like Troy Aikman had. I was ecstatic last season on how well our rookies, Dak and Zeke did and am very excited about the next few years. I have stood behind my Cowboys for all their Super Bowls and even for the last 22 years of no Super Bowl Championships. My favorite thing to do on Sunday afternoons is chilling out and watching NFL football.
Fantasy Football Confessions
I used to only be interested in watching if it was my Cowboys players but the last several years I root for other players (when they are not playing Da Boys). I root for these players because they are on my fantasy football team. Believe it or not, I have Tom Brady as my QB and Odell Beckham as my Wide Receiver. Yes, a die-hard Cowboys fan and I am rooting for our rival when the Giants are not playing the Cowboys. I was actually very happy the first game when Odell was out the first week when Giants played Cowboys.
I still have my favorite player of all time, Jason Witten, on my team as well. He isn't projected to gain a lot of points but since I love him to pieces I had to grab him as my tight end. I root for my Cowboys all the time and my fantasy football team players as long as they are not playing against them. I love September through January because Football Season is my favorite season. I am looking forward to seeing the Dallas Cowboys win another Super Bowl soon.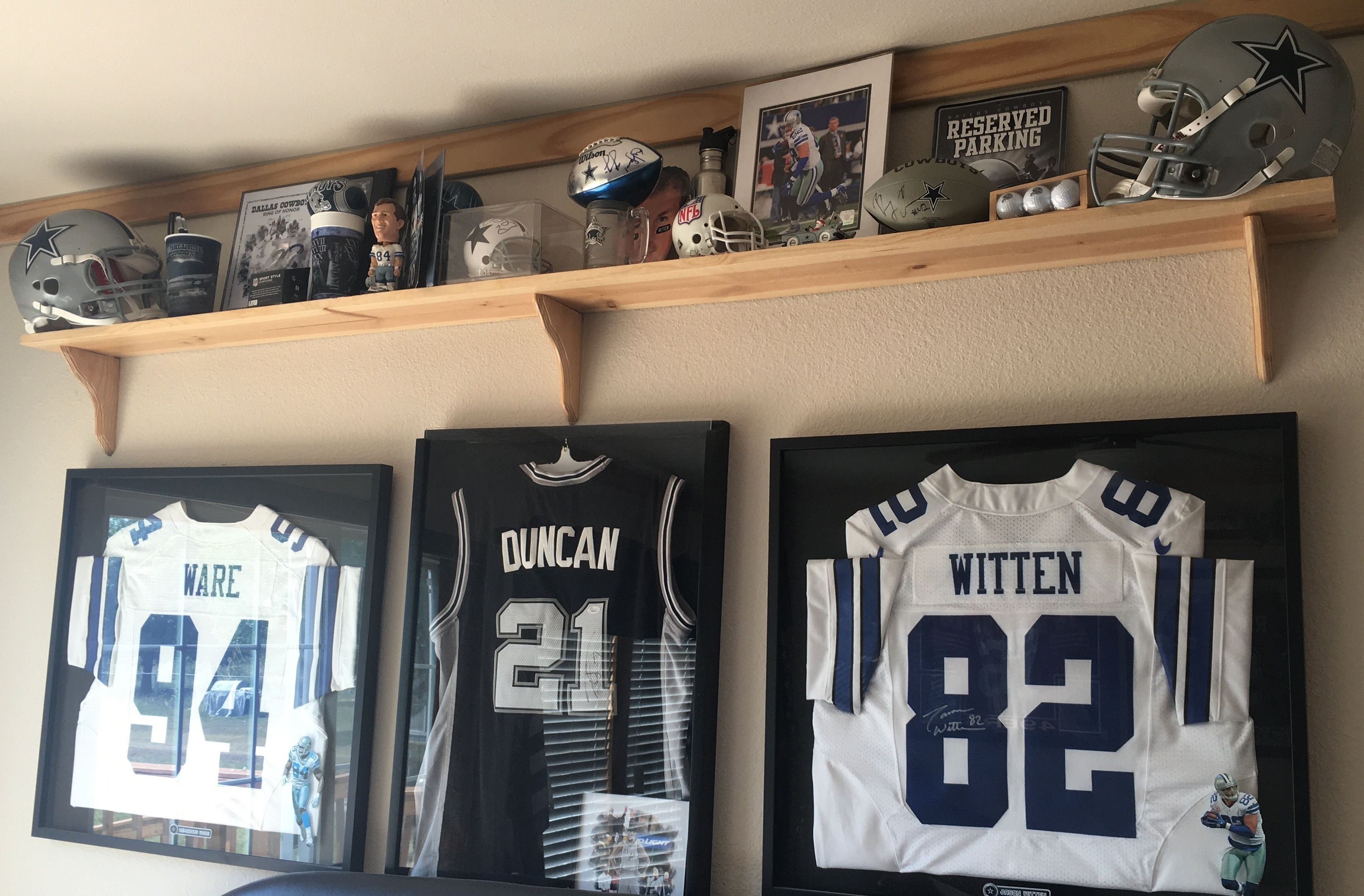 If you ever want to talk football you know where to go: SafeSplash San Antonio! Who are you rooting for this season?
Swimming lessons are an excellent idea even during football season and cooler months! Off-peak lessons mean more opportunities for smaller groups and individual attention for swimming skills that will last a life time.
Be sure to register your
football fan today for more information!